My grandmother's last wish was to see me on TV playing for India: Axar Patel
Axar's father requested him to fulfill the last wish of his mother after her demise.
Updated - Apr 12, 2022 8:10 pm
230 Views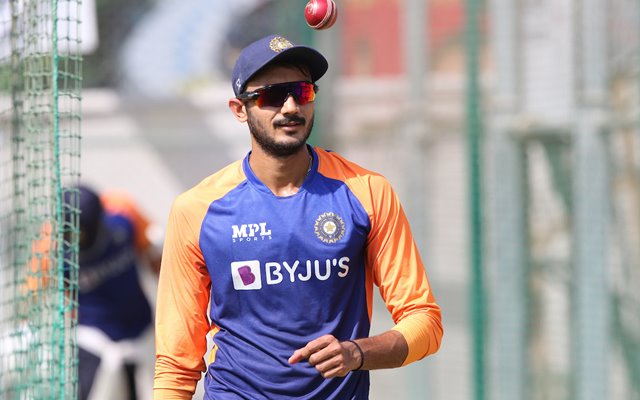 Follow us on Telegram
The charismatic all-rounder, Axar Patel has featured in all formats of the game and is a bright prospect for the Indian team. Although he has got limited opportunities with the Indian Team since his debut in 2014, he has done well on most occasions. Axar has been a permanent fixture of the Test team for the last one year in the Indian sub-continent conditions.
In a recent chat on the Breakfast with Champions show, Axar discussed his grandmother's love for him and how often she longed to watch his grandson on Television. She also used to instruct his older cousins to do all the household work and protect Axar. He further revealed, that his grandmother knew only about the Blue jersey, worn by the Indian team.
"I was her favourite. Since I was the youngest in my family, she used to love me more than everyone else. Growing up whenever I used to go for my matches, she always used to ask me 'will you come on TV now?'," said Axar on the YouTube show.
He further said his dad would explain to my grandmother, that he will play for India when he wears the Blue jersey. Then his grandmother would say, "Tell me when he appears on TV, I'll watch".
My father cried and urged me to fulfil his mother's wish: Axar Patel
Patel revealed that he played the game for fun, and didn't think too far ahead despite featuring for the Gujarat state team as well. But, he recalled that he had gone to Gandhinagar for playing one of the domestic fixtures, and during the same time, his grandmother sustained a heart attack and died. After reaching home, his father hugged him and requested him to fulfill the last wish of his grandmother wanting to see Axar on TV.
"I was playing cricket. I played U-16 and then for the state but only for fun. Never thought about the future. After my grandmother died. My father hugged me and cried. That day, he told me 'I have never asked you anything before and won't ask anything in the future but it was my mother's last wish that she wanted to watch you on TV playing for India, wearing that blue jersey," Axar added.
"That night I thought and it occurred to me that now I have to be serious about cricket. The next day I promised my dad 'even if it is for one match but I would definitely wear that blue India jersey," the bowling all-rounder concluded.
Follow us on Google News