Never seen this before, Shoaib Akhtar tweets on Shiva Singh's 360-degree run-up
Akhtar was pleasantly surprised by Shiva's action.
Updated - Nov 9, 2018 7:56 pm
4K Views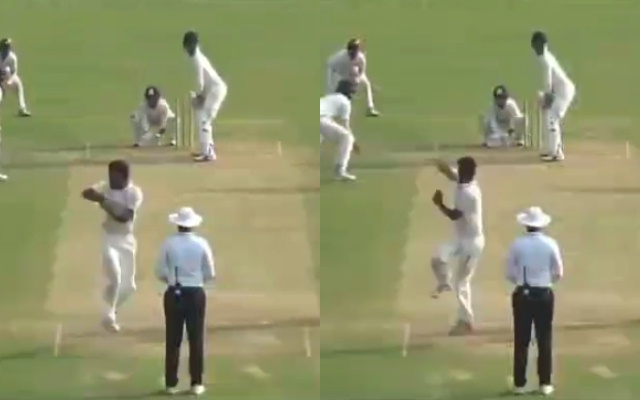 Time and again, cricket has seen entry of bowlers who possess certain unique skills and has naturally caught a lot of attention. From Paul Adams to Lasith Malinga to the contemporary Jasprit Bumrah, bowlers have evolved in the game with fantastic and also effective bowling actions. The latest in the list is Shiva Singh, a left-arm U23 spinner from Uttar Pradesh, who though hasn't made his international debut but has made headlines beyond the borders.
Shiva Singh is in the news for his unmatched bowling action, and it is about 'spinning' himself 360 degrees just before his delivery. The bowler took a complete rotation before bowling in a game against Bengal in CK Nayudu Trophy in Kalyani, West Bengal, and the on-field umpire stepped in immediately. The bowler defended himself saying he had bowled in the same style earlier as well but umpire Vinod Seshan stuck to calling it a 'dead ball'.
"I delivered this 360-degree ball against Kerala in the Vijay Hazare Trophy as well, where it was fine. Batsmen always go for the reverse-sweep or the switch-hit against bowlers. But when bowlers do something like this it's deemed a dead ball," Shiva mentioned.
Former Pakistani speedster Shoaib Akhtar was pleasantly surprised by Shiva's action and terming him a "360 degree bowler", he said this is something he is seeing for the first time.
Here is Shoaib's tweet
Wow what a 360 degree bowler .. never seen anything like that .. https://t.co/rqEB0EzDAg

— Shoaib Akhtar (@shoaib100mph) November 9, 2018
Mixed reactions for Shiva Singh
Former England captain Michael Vaughan was also impressed by Shiva's action, saying it was good to see bowlers bringing new innovation in the game. Shiva's compatriot Bishan Singh Bedi, a former great spinner, however, called him a "weirdo".
Shiva Singh nevertheless got support on the social media as many questioning why a bowler can't bowl with a variation of turning 360 degrees if a batsman is allowed to switch hit.
As far as the law is concerned, Clause 20.4.2.7 of MCC says: "either umpire shall call and signal dead ball when there is an instance or deliberate attempt to distract under either of the Laws 41.4 (Deliberate attempt to distract the striker) or 41.5 (Deliberate distraction, deception or obstruction of batsman). The ball shall not count as one of the over."