New Zealand v Pakistan 2nd Test, Day 5 – 5 Talking Points
Updated - Nov 29, 2016 6:13 am
49 Views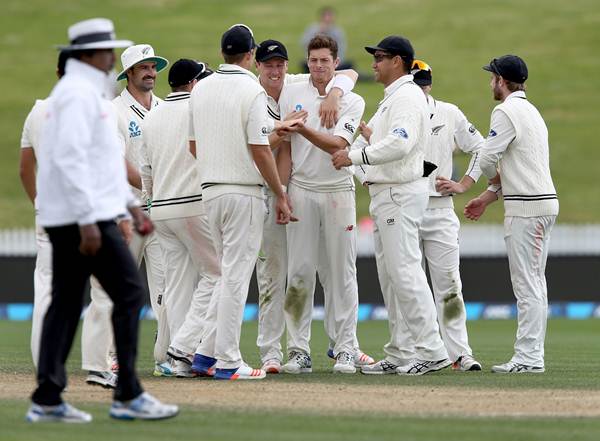 Azhar Ali's Test captaincy debut leading Pakistan in the last Test of the series didn't quite go the way he would have liked to. He won the toss and chose to bowl first, then his bowlers managed to put New Zealand under pressure but also let them score enough runs. The way Pakistan in return approached their batting inning was not convincing at all and they were all down for just 216 in reply to Black Caps first inning score of 271.
55 runs first inning lead was always going to be handy and when they posted 313/5 on day 4 on the back of Ross Taylor's ton the match was well out of Pakistan's reach. It still wasn't an easy deal as the Kiwi bowlers had to bowl them out in just three sessions which didn't look like happening when Sami Aslam and Azhar Ali were batting. But they were completely out of place in the last session and were bowled out for New Zealand to grab the game and the series 2-0. Here are the five talking points of the day.
1. Sami Aslam's 91:
He had to bat through, for Pakistan to save the game they needed their openers to start off solidly and for one of them to bat through. They gave the team a lot of hopes over after over as they defied the attack with calmness and composure. Patience was the word and Sami Aslam was all about it right through his inning but at the same time played his shots time and again to keep the scoreboard healthy as well.
He stayed in the middle for 303 minutes, faced 238 deliveries and scored 91 runs but just when he needed to extend it, Tim Southee produced the eventful delivery that got him and he was walking back having missed a century and his chance of saving the Test for his team.
2. Aslam-Azhar partnership:
Sami Aslam and Azhar Ali had the toughest job, they first had to see through the last burst from the New Zealand bowlers last evening and then face the charged pacers early today but none of it could get the better of them. The duo showed all the courage, grit and determination required to see their team through the day and it also transpired in numbers as they not only got to their individual half centuries but also put together the first century plus stand of the series. They batted along for 60 overs and scored 131 runs Aslam contributed 64 while Azhar's share was 58.
3. New Zealand and the DRS:
Though New Zealand had a great day overall winning the game as well as the series but had quite a tough time with the DRS, they first went for a nothing sort of a review against Azhar Ali and then missed out on calling one when Sami Aslam looked certainly out.
It was a short ball from Matt Henry to Azhar Ali, he dropped his hands down out of the way of the delivery but New Zealand appealed and even reviewed it for caught behind. There was noise as the ball passed the bat but he was nowhere close and replays suggested it could be categorized as one of the worst review decisions a team has opted for.
On a Colin de Grandhomme delivery Sami Aslam was hit on the pad but the umpire wasn't convinced enough to raise his finger. New Zealanders surprisingly didn't go for the review while replays suggested that it hit him right in front and was quite plumb. Thankfully for the Black Caps, these couple of decisions didn't really have an impact on the outcome of the game but they certainly need to work a better way out of it.
4. Santner break's through:
When the chips looked almost down as the Pakistani openers dealt safely with everything that they pushed their way it was young Mitchell Santner who put his hand up once again. The captain introduced him as the plan A didn't quite work out and he responded immediately with the wicket of the opposition skipper Azhar Ali.
It was a breakthrough that cracked things open and that led to another wicket, that of Pakistan's no. 3 Babar Azam who again is a tough batsman. Both Ali and Azam dragged the ball back onto their stumps trying to drive the ball that was pitched away from their body.
5. Neil Wagner wags the tail:
The overs were ticking by and Pakistan now needed to play just a few overs to draw the Test. To get the team through such a nervy situation you need a bowler who steams in and bowls his heart out and that is exactly what Neil Wagner does. The last thing New Zealand wanted was a resistance from the last three but Wagner was in no-nonsense mood and took just 7 balls to send back Mohammad Amir, Wahab Riaz and Imran Khan back to the pavilion while all three weren't allowed to even open their accounts. That was a sweet end to a sweaty effort from the Black Cap bowlers.