'No religion, only humanity' – Harbhajan Singh shuts down fans who were furious at him for supporting Shahid Afridi's foundation
After Harbhajan Singh uploaded this tweet, he found support from his former teammate Irfan Pathan too.
Updated - Apr 2, 2020 1:46 pm
107 Views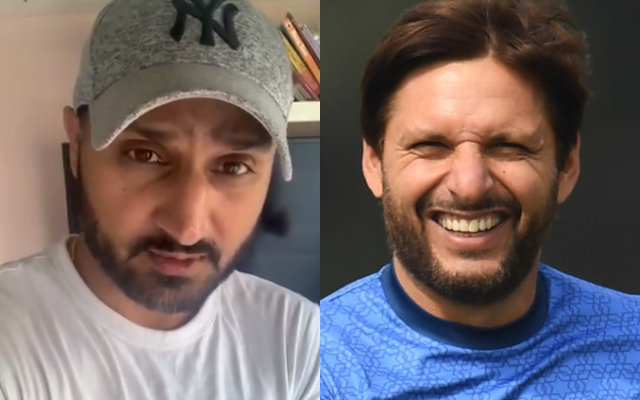 A few days back, Yuvraj Singh and Harbhajan Singh posted tweets from their official Twitter handles promoting Shahid Afridi foundation which is trying to help people in Pakistan in fighting with the coronavirus situation. Both the players urged people to contribute to the foundation and help in the noble cause organised by the former Pakistan player and skipper, Shahid Afridi.
This did not go down well with the Twitter fans as both the cricketers received backlash from Twitter fans saying that they shouldn't be supporting Pakistani causes during this time of the global pandemic. Both the countries, India and Pakistan are going through tough times during the outbreak of the coronavirus.
Both countries have more than 2000 cases of coronavirus patients. The two neighbouring countries are struggling to combat the current situation. Though, there have been attempts made by both the governments to protect their citizens.
'Spread love, not hate or virus': Harbhajan Singh
After facing the backlash, finally, on Wednesday, Harbhajan Singh uploaded a tweet in response to the hate that he received on Twitter. After promoting Shahid Afridi Foundation, he uploaded a video of the 'United Sikhs' which is a campaign in the USA organised by Sikh people.
The campaign intends to provide free food to several individuals all across the city in the USA to help them get over the current crisis. The video tells how the Sikh people in the USA are trying their best to do something for the community by spreading love. The video showed how the Sikh community are packing wholesome vegetarian food and providing the poor with it.
In the caption, Harbhajan Singh said no religion, no caste should be considered, only humanity should be taken into account during this global pandemic. He said we should spread love and not hate or a virus during this time. "No religion, no caste, only humanity..that's what it is.. stay safe stay home..spread love not hate or virus.. let's pray for every single one.. May waheguru bless us all", the caption read.
After Harbhajan Singh uploaded this tweet, he found support from his former teammate Irfan Pathan too. Pathan uploaded a tweet saying 'true that bhaji'.
Here's the tweet:
No religion,no cast, only humanity..that's what it is.. stay safe stay home..spread love not hate or virus.. let's pray for every single one.. May waheguru bless us all 🙏🙏🙏🙏 #BeKind #BreakTheChain #coronavirus pic.twitter.com/evPob7er0F

— Harbhajan Turbanator (@harbhajan_singh) April 1, 2020