'No shame in showing your tears, it's okay for men to cry' – Sachin Tendulkar to the men of today and tomorrow
Sachin Tendulkar shared an open letter.
Updated - Nov 20, 2019 8:05 pm
969 Views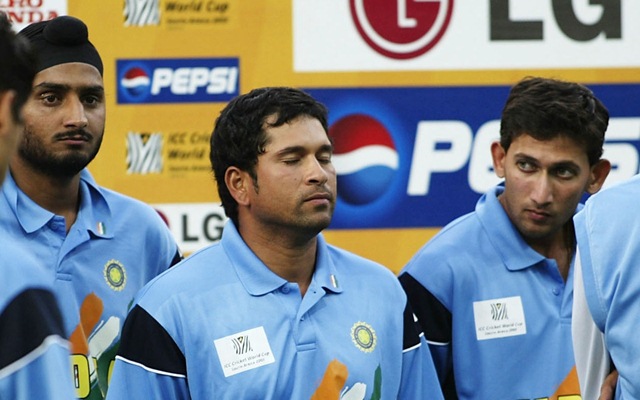 Sachin Tendulkar is one of the gem in the history of cricket. He bid adieu to international cricket back in 2013 after donning the Indian jersey for more than two decades. The right-handed player is arguably the best batsman of all time, he holds several records at the international level that stands till date. And, in his latest tweet, Master Blaster came out with an emotional letter for all the men that can fill everyone with tears.
Sachin Tendulkar has advice for the males across the globe
Sachin Tendulkar took to his Twitter handle and shared a heartfelt note for his 18 million followers in which he accepted the fact that men should change certain beliefs. And, feels that the males should never pretend to be tough when things are going against them. He also explicitly wrote that his tribe should never hide their emotions and tears.
The former player also recited that he had also grown up with a belief that tears make men weak. However, later on, he realized that he was wrong.
"There's no shame in showing your tears. So why hide a part of you that actually makes you stronger? Why hide your tears? Because that's what we are brought up to believe – that men are not supposed to cry. That crying makes a man weak. I grew up believing this. And the reason I'm writing to you today is because I realised that I was wrong. My struggles and my pain made me who I am, shaping me into a better man," expressed in his letter.
In the open letter, he recalled an incident, when he was filled with the tears in front of the crowd on his last day in the international cricket. As per Sachin, he knew about the fact that he is going to retire and tried to control his emotions. However, he couldn't prepare himself for it and was filled with tears on such a big occasion. But, later on, he sensed some peace after his emotions got drained out.
"I had thought about it for a long time but nothing could prepare me for that last walk back to the pavilion. With each step, it started sinking in. I felt a lump in my throat, the fear of it all ending. There was so much going through my head at that moment. I just couldn't keep it in. And I didn't fight it. I let go in front of the world, and surprisingly, I felt a certain peace. I felt stronger for putting myself out there and grateful for everything that I had received. I realised I was man enough,"  wrote the 46-year-old.
Here is the tweet from Sachin Tendulkar
To the Men of Today, and Tomorrow.#ShavingStereotypes pic.twitter.com/rZxbKJ7c4J

— Sachin Tendulkar (@sachin_rt) November 20, 2019