Non striker swings bat in resentment after getting run out, ends up hitting teammate mistakenly
Singh shared the video ahead of yesterday's KKR vs RCB match.
Updated - Sep 21, 2021 5:41 pm
716 Views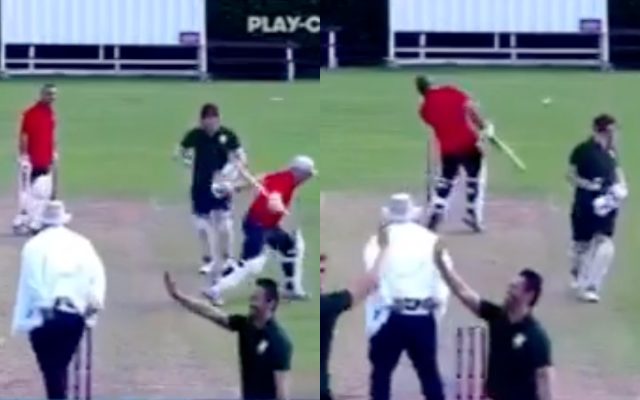 Follow us on Google News
A video clip of a non-striker end batsman throwing the bat in anger has been doing rounds on social media. The video comes up from some local club cricket game and when the bowler places the delivery, the batsman on strike calls for a single. However, the non-striker's end batsman runs halfway only to get run out.
The anguish was clearly visible on his face as he threw his bat in the air. The major twist to the story came up when his bat landed over the other batsman on the crease and he got hurt. Later, when he realized it, he came running to check his teammate if he was doing fine. The video was shared by former Indian cricketer Harbhajan Singh who is currently up with the KKR lot.
He shared the same video on his official IG handle before yesterday's KKR vs RCB match with the caption, "Don't ever throw ur bat after getting out @kkriders vs @royalchallengersbangalore tonight @iplt20."
Harbhajan Singh shares the funny video on his IG
View this post on Instagram
Harbhajan Singh is a part of KKR's camp and it remains to be seen if gets any game in the UAE owing to his classy spin tactics. Before KKR, Singh used to be part of MS Dhoni's CSK. The first match between Kolkata and RCB was won by KKR by nine wickets. It was assumed that RCB will look up to maintain their momentum but their utter batting collapse helped them post only 92 runs on the board.
The target was so meager that it took only 10 overs from KKR to chase down the score. Shubman Gill missed his half-century closely but set the perfect tone for the game. Varun Chakravarthy was declared as the player of the match for his tight spells that earned him three wickets.
"I try to assess the pitch first. It was flat only. Would like to give credit to the bowlers who bowled in the powerplay for the discipline. There wasn't much in the pitch. Wasn't much spin on offer so I had to keep it on the stumps. I thought it was out (the hattrick ball) but just saw the replay that there was an inside edge," said Chakravarthy after the game.
Follow us on Telegram