'Not one of my proudest moments' – Rahul Dravid on infamous cap throwing incident from IPL 2014
Rahul Dravid was the mentor of the Rajasthan Royals during the 2014 season.
Updated - Oct 15, 2021 7:19 pm
4.7K Views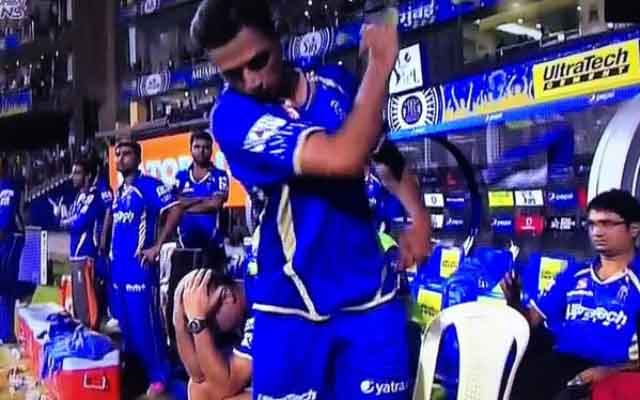 Follow us on Telegram
Rahul Dravid has been known as one of the calmest individuals in Indian sports. His personality has been loved by many because of his aura. It is almost unthinkable that the former Indian batter can ever lose his temper. But, when you are in a high-pressure sporting atmosphere, it is bound to happen. And it has happened with Dravid as well. 
The incident is from 2014 when he was the mentor of the Rajasthan Royals team. It was the last league game of the season between his team and Mumbai Indians at the Wankhede Stadium in Mumbai. Rajasthan didn't necessarily need two points and a win to qualify, but they had to stop Mumbai from chasing the total in 14.3 overs to ensure a disqualification. 
Mumbai came out all guns blazing in reply to the 190 runs target set by Rajasthan. When the third ball of the 14th over (14.3) was bowled, Mumbai had reached 189 and tied the score. Everyone at the stadium and in the Rajasthan Royals camp thought that they had safely managed to evade this task. 
But, this is when another update came that if Mumbai were to hit a six on the next delivery (14.4), then their score will be 195 and they can still manage to get past the net run rate of Royals. The next ball was a six which knocked Rajasthan out of the tournament. Dravid, who was sitting in the dugout, stood up and threw his cap in frustration. He was then seen picking it up immediately. 
It's not the first time it's happened to me, it was the first time it had happened publicly: Rahul Dravid
While speaking about that incident in a special video uploaded on Cred's YouTube channel, Dravid said, "Not one of my proudest moments, but I have always tried to be someone able to manage (his) emotions and control his emotions. The thing with international cricket is there's always a lot of pressure on you."
He further added, "Here's a lot of eyeballs, a lot of focus on everything you do, all your actions both on and off the field. I think one of the ways to really be your best is to be able to maybe, like we say, shut out the noise." 
After saying this, the former cricketer also said that there have been moments such as these in the past as well, but not every moment is seen by fans. "It's not the first time it's happened to me; it does happen. It was the first time it had happened publicly. Other times it might have happened in the privacy of the dressing room," he added.
Follow us on Google News