Numbers suggest MS Dhoni behind the stumps is a huge factor in Kuldeep Yadav's success
Dhoni and Yadav have played together in 40 ODIs.
Get every cricket updates! Follow us on :
There's not a hint of doubt with regards to MS Dhoni's efficiency as a wicketkeeper for India. There's no one in the history of the game who comes close to the former Indian captain in terms of his reflex behind the stumps. His presence in the field not only helps Virat Kohli with his captaincy, but he's also a boon to the bowlers and especially the spinners.
We have all witnessed his exploits behind the stumps wherein he instructs the bowlers, via the stump mic, about where to bowl in order to bamboozle the batsman. Earlier this year, during the T20I series in New Zealand, the great MS Dhoni had executed a lightning fast stumping to dismiss Blackcaps batsman Tim Seifert.
Following that, the chinaman Kuldeep Yadav was quoted saying, "Mahi bhai has vast experience and keeps telling us the nitty-gritty of the game. He is like a game changer and we are lucky to have him in our team. But what I find most extraordinary about him is the speed in which he dislodges the stumps. It is simply unbelievable and honestly, I have never played with someone with such quick glovework."
In fact, the Kuldeep-Dhoni pair in dismissals is not unknown to the world. During the first One-Day International at Napier, in January, the duo had planned and executed Trent Boult's dismissal. The expert wicketkeeper MS perceived Boult's next movement from behind the stumps and right before Yadav was to deliver, Dhoni asked him to bowl a googly.
The video of the incident went viral on social media in which Dhoni can be seen saying, "Yeh aankh bandh karke rokega. Dusra waala daal sakta hai isko." (He is going to block blindly. You can bowl him the other one).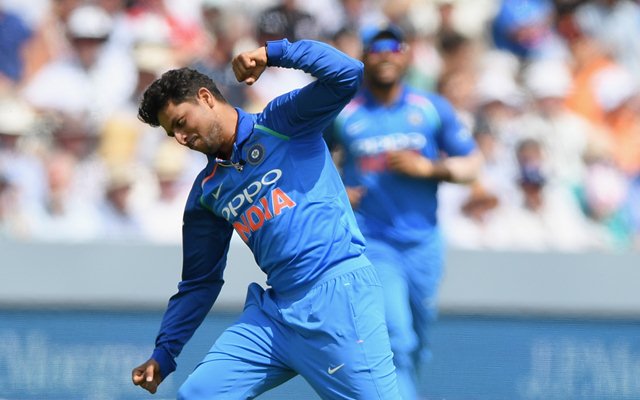 Dhoni a big influence in Kuldeep's scalps
In the game of cricket, numbers speak for themselves. In this case of the Dhoni-Yadav duo, it is clear from the data how the bowler's efficiency is enhanced by the keeper. In 44 ODI matches that the chinaman has represented the Men in Blue, Dhoni has featured in 40 of them.
In those forty matches, Kuldeep has bagged 87 at 21.74 whereas in the rest of the 4 matches wherein Dhoni has featured, including the one in Delhi today, Yadav has scalped only two wickets. Even though the sample size of four is inadequate to determine anything, but it's undeniable that Dhoni plays a major role in guiding the chinaman to success.
[interaction id="5c86604218d43d4f62bc1c78″]
Get the latest Cricket News and updates from India vs Australia series, Match Predictions, Fantasy Cricket Tips and lots more on CricTracker.com.