'Oh Gosh, why me?' – Michael Hussey opens up how he dealt with COVID-19 after testing positive
Hussey tested positive for COVID-19 after IPL 2021 was suspended indefinitely.
Updated - May 19, 2021 10:58 am
1.3K Views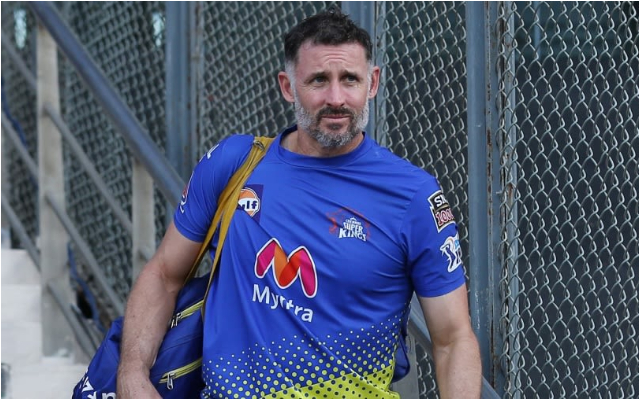 Follow us on Google News
Former Australian cricketer Michael Hussey who had tested positive for the deadly virus has shared his views on the same. The former left-hand batter who was the batting coach for Chennai Super Kings had contracted the virus and he didn't know how he had got the bug. Notably, only a few days before the CSK bowling coach Lakshmipathy Balaji and the staff cleaner had tested positive.
The 14th season of the Indian Premier League (IPL) was going around smoothly, until the match between Royal Challengers Bangalore and Kolkata Knight Riders was postponed on May 3 as two KKR players were detected positive. After that, the BCCI officials still had reportedly hoped to conduct the remainder of the matches in Mumbai but that was not to be as more and more players came out positive and the tournament had to be postponed.
Hussey talks in length about his experience of COVID-19 pandemic
Among the positive players tested, Mr Cricket as he is fondly referred was one of the several players who had to stay in India till he came out negative. Hussey who recovered from the virus on May 13 and flew back home shared his views on the same.
"I wasn't thinking about (getting home) too much to start with. I was focusing on just trying to get better again, really. My initial test came up as a weak positive, and we were sort of hoping the next would be negative and it'd be alright, but unfortunately, I got retested the next day and that came back positive," he told foxsports.com.au.
"To be honest, I had already started feeling some of the symptoms and so I was thinking, 'I'm pretty sure I've got it'. Plus I was sitting next to the bowling coach on the bus a few times, so I thought, 'If he's got it then there's a pretty good chance I've got it as well'."
Hussey was shocked, to say the least when he got the virus and could not believe after so many tests conducted by the doctors how he had got one. "'Oh gosh, why me', but I didn't really think too much at all. I thought it was a bit of a shame. But I certainly wasn't worried about my breathing or things like that. It was just a bit annoying, really," he said.
Interesting Facts You Didn't Know About Rahul Dravid –
Follow us on Telegram