Oman D10 Cup 2022: March 22 Match Predictions – Who will win today's matches?
Ruwi Rangers have already won two of their fixtures so far in the Super four stages.
Just two more games to go in the Super 4 stage of the Oman D10 Cup 2022 and it will be down to the all-important finals today at the Al Amerat Cricket Ground. Ruwi Rangers have already won two of their fixtures so far in the Super 4 stage, while Bousher Busters have lost both their games. Amerat Royals and Qurum Thunders were able to win one of their two games each, and the stage is set for the two entertaining games ahead of the finals.
In the first game of the day, Bousher Busters will take on Ruwi Rangers, which will be followed by Qurum Thunders and Amerat Royals competing in the second game of the day. The finalists will be decided after the two games of the Super 4 stage, and it will be one of the most-awaited fixtures on the day.
Details:
Venue: AI Amerat Cricket Ground (Ministry Turf 1), AI Amerat
Live Streaming: CricTracker, Fan Code (India)
Pitch Report:
The side batting second had a significant advantage in the 4 games that have been played in the Super 4 stages so far, and chasing has been the easier option on the Oman pitch. The captain winning the toss is likely to bowl first, considering the dew factor which can come in the latter part of the day.
Meanwhile, let's look at the match predictions Oman D10 League matches taking place on March 22:
Bousher Busters vs Ruwi Rangers, Super 4
Date & Time: 22nd March at 4:45 PM IST
Probable Playing XIs
Bousher Busters
Pruthvi Machhi , Asif Khan, Adnan Sulehri, Abdul Rauf, Sufyan Mehmood, Fawad Ali, Shubo Pal, Bilal Muhammad Shah, Mehedi Hasan, Siddh Mehta, Hammad Ifraq
Ruwi Rangers
Hanan Riznan, Sanuth Ibrahim (c), Khalid Kail, Shafqat Ullah, Wasim Ali, Mohamed Usmani (wk), Jitenkumar Ramanandi, Mohammed Naseem Khushi, Mohit Patel, Hasnain Ali, Kaleemullah
Match Prediction: Ruwi Rangers to win the match
Qurum Thunders vs Amerat Royals, Super 4
Date & Time: 22nd March at 7:00 PM IST
Probable Playing XIs
Qurum Thunders
Kashyap Prajapati, Jatinder Singh (c), Shoaib Khan, Suraj Kumar (wk), Sandeep Goud, Samay Shrivastava, Siddharth Bukkapatnam, Ganesh Chandrashekhar, Munis Ansari, Aiyappa Chonira Rathan, Rana Naeem Anwar
Amerat Royals
Akshay Patel, Pratik Athavale (wk), Shahbaz Anwar, Karan Sonavale (c), Vinayak Shukla, Rafiullah-M, Hemal Tandel, Sparsh Tiwari, Utkarsh Sahu, Khafid Un Nabi Siddiqui, Vinay Khandelwal
Match Prediction: Qurum Thunders to win the match.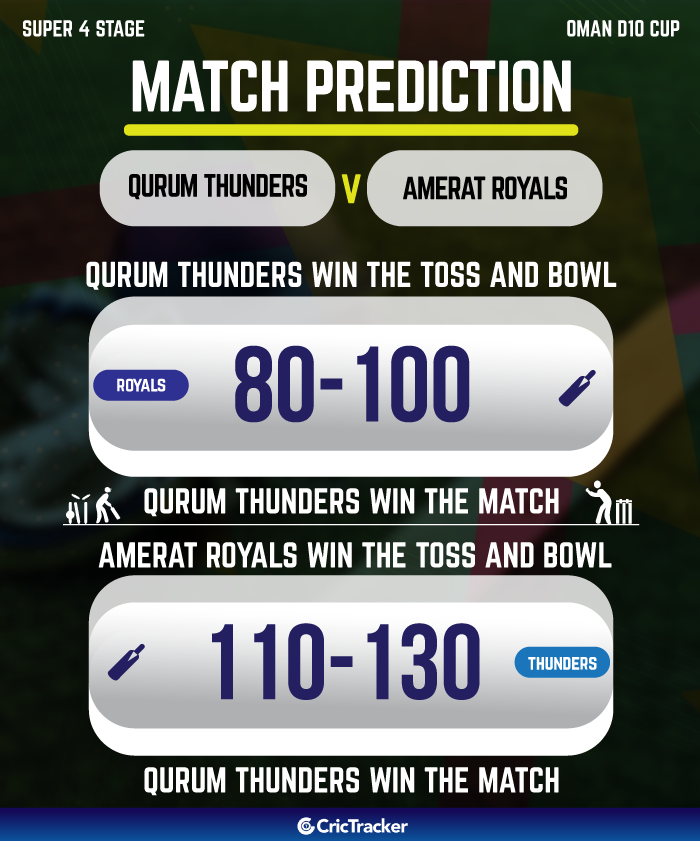 TBD VS TBD, Finals
Date & Time: 22nd March at 11:00 PM IST
Disclaimer: These predictions are based on the understanding, analysis, and instinct of the author. While making your prediction, consider the points mentioned, and make your own decision