On This Day in 2007: Young Indian team's heroics against mighty South Africa
Updated - Sep 20, 2015 6:34 am
25 Views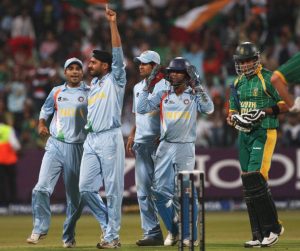 On This Day in 2007: Young Indian team's heroics against mighty South Africa: The first ever Twenty20 world cup. Last league match was left before the knockout stage. The hosts South Africa clashed young Indian side under lights of Durban on an exciting Thursday night. This group E encounter marked for various reasons as the result of the game depends on fate of progress of 3 teams. New Zealand, who are not participating team in the game closely following on their TV sets in hotel rooms expecting either the hosts beat India or the South Africans lose by a big margin. Whereas, South Africa needed to win the game or just ensure they doesn't lose by a big margin to make into semis. India's equation was simple. Do or Die.
When all these talks were going on, the Indian captain MS Dhoni elected to bat first. Soon he announced a horrific news to Indian fans that Yuvraj Singh, who scored a record 12-ball fifty on the previous night will not be playing this game.
Experienced Shaun Pollock steamed at the Delhi pair Gautam Gambhir & Virender Sehwag producing some swing. Gambhir got the Indian innings underway smashing a boundary on on-side and another on off-side in the 2nd over bowled by Makhaya Ntini. Sehwag looked to continue his good form in the tournament as he yielded a boundary with a square cut off Ntini in 4th over.
When all was started to look good for India, Pollock gave breakthrough for South Africa with Gambhir holing out at mid-on to Graeme Smith trying to strike big. India 33 for 1 in 4.4 overs! 2 balls later, a poor attempt at a straight ball sent Dinesh Karthik for a golden duck. India 34 for 2 in 5 overs!
As if the two quick wickets weren't doing damage for India, Sehwag nicked an away moving delivery off Ntini, as India slumped to 34 for 3 in 5.1 overs! In a crisis time, India had young players Robin Uthappa and Rohit Sharma at the crease. Uthappa had a good reputation of playing some good innings for India, but Rohit Sharma, playing in his only the 2nd T20I game came out to bat for the first time. Rohit, who became the first Indian to score a century in twenty20 format a couple of months earlier, needed to steady the ship along with Uthappa.
Uthappa, with a lovely pull over mid-wicket in bowling off Van der Wath, finished 8th over with a six. India 46 for 3! Van der Wath almost claimed revenge when Uthappa tried to play same shot but Philander dropped a sitter at mid-on. India 48 for 3 in 9.1 overs! Finally the much waited shots came from Rohit's bat when he took over Van der Wath striking boundary with a square cut and followed it with a lofted shot over covers. India 57 for 3 in 10 overs!
Uthappa seemed to cash the life line he got as he pulled towards mid-wicket for a boundary off Morne Morkel. But he didn't last long as he was caught at mid-off by Smith trying to loft on the very next ball. India 61 for 4 in 10.3 overs!
Then came in Indian captain, who was overdue a good innings, joining new face Rohit. India were desperate of putting at least a score of 140 with conditions providing help for the bowlers.
The rescue act carried on with Rohit punching towards square region for a boundary off Albie Morkel. India 77 for 4 in 12.4 overs! Sharma looked in a great touch as he flicked a full toss over fine leg region off Ntini and added another 4 runs to the total with a handsome cover drive. India 90/4 in 14 overs!
India suddenly realized the need of being extra cautious while scoring runs at the same time as this is the last recognized pair when Dhoni was dropped at long-on due to a misjudgment from Morne Morkel which eventually went for a boundary. India 101 for 4 in 16 overs!
The finishing part began with Sharma slicing through point region for boundary in 17th over to Morne Morkel. Dhoni gave a brilliant finish to the over by pulling Morkel's deliveries for a four and a six towards mid-wicket region piling 18 runs from the over. It was Rohit's turn to clear the fence as he capitalized low full toss bowled by Van der Wath and picked up a boundary by coming down the ground in the same over. India 131 for 4 in 18 overs! South Africa provided a couple of gifts as Morne Morkel's no-ball was hit for a boundary by Dhoni in 19th over.
With a rocking boundary over mid-wicket, Dhoni had 6 runs in first 3 balls of the final over. However, he was run-out for 45 on the following delivery trying for a greedy single. The final touch was given by Rohit Sharma who murdered a full toss from Van der Wath for a six over mid-wicket. With that hit, the 20-year old brought up his maiden T20I fifty. India 153 for 5 in 20 overs!
The Indian team had all their levels up after putting on a good score recovering from a horror of positions. India's young bowling line up were hopeful about defending, which is do or die case for them. Whereas the South Africans needed to score 126 to enter semis.
Sreesanth gave India the worst possible of starts with 5 wides first up. Later he was hit for a boundary in the same over which costed 11 runs. RP Singh got hands on the ball from the other end who trapped Gibbs in front of stumps with an in swinger. Couple of balls later, Smith returned to pavilion as Dinesh Karthik took an absolute stunner diving to his left. South Africa 12 for 2 in 1.5 overs!
Sreesanth joined the party with a quicker delivery aiming AB de Villiers' stumps, who could just see the ball hitting his pads and wait for Umpire's finger to be raised. South Africans weren't aware about what's going on as the star of the night with the bat, Rohit Sharma with an accurate throw at stumps sent Justin Kemp back to the pavilion. RP Singh was enjoying the conditions as he cleaned up Shaun Pollock with an incoming delivery. South Africa 31 for 5 in 5.5 overs!
The hosts suddenly looked like getting eliminated from nowhere as they lost half their side in the powerplay itself. Then came a steady stand from Mark Boucher and Albie Morkel, who put on 69 runs for 6th wicket. With some tight bowling, Indians managed to strengthen their chances on victory as South Africans could only look down to score 126, to get into semis. But Indians weren't allowing the South Africans to get at least that. Sreesanth had Boucher, who edged on to his stumps. Harbhajan got Philander stumped as the Africans lost their 7th. Adding more to the troubles of hosts, RP Singh got his 4th scalp of the night by cleaning up Albie Morkel. South Africa 109 for 8 in 18.4 overs!
With 45 needed off last 8 balls, Indians almost made into semis but South Africa needed another 17 runs but could only put another 7 runs and got eliminated from the inaugural edition of World T20 in a shocking manner after remaining unbeaten before the game.
The game stands as one of the memorable events in Indian Cricket history where a young Rohit Sharma, batting for the first time in the format gave the belief for Indian team with an impressive knock against quality South African pace attack on a greenish track, which was fully capitalized by young Indian pacers by unsettling the South African batsmen, which was possible only due to some quick moves by the future generation players in field who valued for each and every run. Without all these in this game, India wouldn't have stood as World T20 Champions a couple of games later.