'Online voting for run-out' – Twitterati react hilariously to the new rules for BBL 2020-21
The BBL is set to get underway on December 10.
Updated - Nov 17, 2020 11:00 am
2.4K Views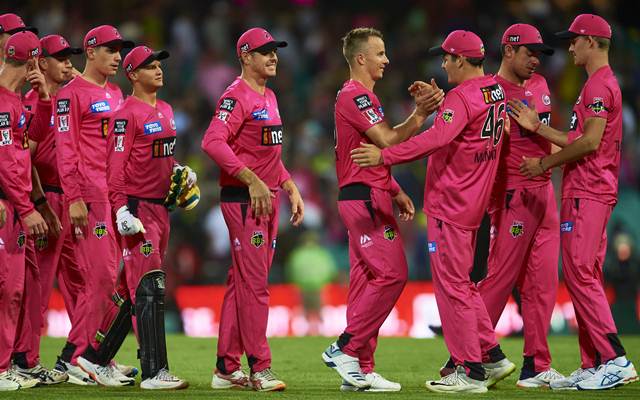 Ahead of their soon-to-start tenth season, Big Bash League has sprung quite a big surprise by unveiling three new playing rules for the tournament. In an attempt to make the tournament more entertaining and appealing to the fans, BBL has introduced three new rules for the new season – Power Surge, X-Factor and Bash Boost.
The new rules will see new powerplay regulations in the games, the teams getting the opportunity to sub in a player at a specific stage of the game and can also get a point for being ahead of the opposition at the halfway mark of the chase. BBL has definitely turned heads with the new rules which are unprecedented and are drawing mixed reactions from the cricket fraternity.
The new rules and the reactions:
The traditional six-over powerplay will be no more in place in the tournament. It will be replaced by a mandatory four-over block at the start of the innings. The batting teams will be allowed to use the remaining two overs at any point from the 11th over of the innings onwards. During that period, the fielding side will be allowed only two fielders outside the inner ring.
The upcoming tournament will also see the return of the Super Sub but with a tweak. At the halfway mark of their first innings, the teams will have the chance to substitute one of their starting XI. The 'X-factor' player, however, will be able to replace only that player who is yet to bat or has bowled no more than a single over.
Entertainment levels 📈

"The Power Surge, X-Factor and Bash Boost prioritise high scoring, exciting cricket, introduce new strategic angles and ensure there's always something to play for throughout the entire match," – Head of BBL, Alistair Dobson #BBL10 pic.twitter.com/Nacna2XHw9

— KFC Big Bash League (@BBL) November 15, 2020
In another rule, the teams will now have a chance to earn as much as four points for winning a game. Previously, the teams got two points for a win but will now receive three. And they will have a chance to earn a bonus point during the match. The team which will be ahead on the comparison at the 10-over mark during the second innings of the game will get the point.
But if the team score are level at 10 overs, that point will be split – 0.5 to each time. Only time will tell whether the new rules will spice up Australia's premier T20 competition or not. But going by the reactions of the cricket fraternity on social media, one can say that it is not too impressed with the tweaking in the game. Some of the fans were confused too with the new rules.
Here are the reactions to the new rules:
https://t.co/h3P6s3dLnl pic.twitter.com/LUq8GcIBJf

— Wasim Jaffer (@WasimJaffer14) November 16, 2020
How much "X-factor" could a player possibly have if he's not good enough to make your starting 11? https://t.co/yNabaCuu6e

— Jimmy Neesham (@JimmyNeesh) November 16, 2020
Fans: The BBL runs too long and doesn't have enough star power

CA: Bash boost?

Fans: We don't want gimmicks, just a less confusing schedule and big names

CA: Power surge?

Fans: It should be in school holidays. And more star signings, otherwise it's great

CA: The X-Factor?

— Matt de Groot (@mattdegroot_) November 15, 2020
Ridiculous. Which focus group came up this this garbage? Here's an idea. 11 players a team. 20 overs each. Most runs win?

— Mathew Thompson (@MathewJThompson) November 15, 2020
#BBL10
Me trying to understand the new rules of bbl pic.twitter.com/2GexZHVdta

— KING's STAND( 🔴🇾🇪🔰) (@lakshyaunited) November 16, 2020
All that is left is one hand one bounce.

— Josh Humphries (@Humpty_J) November 15, 2020
Under the new BBL rules, Glenn Maxwell just hit a hole in one. pic.twitter.com/C3Y2ny9nCj

— Dennis Qalandars (@DennisCricket_) November 16, 2020
Bowlers to BBL management after the new rule of power surge in BBL.#BBL10 pic.twitter.com/EA7eX9RQeC

— Pavan Kumar (@pannishr) November 16, 2020
Cricket's Big Bash is one step away from this pic.twitter.com/KmJ0bCtGTL

— Mr Ives (@real_MrIves) November 15, 2020
Bowlers after new rules of BBL :#BBL10 pic.twitter.com/K3gwBc15KM

— Shilgan (@ShilganMeshram3) November 16, 2020
Will there be live online voting if a run out is there😂😂😂

— The losing king (@KingLosing) November 16, 2020
Seriously? Next you'll be saying that the batsmen can pick their own umpires on ball 1,3 and 5 and the fielding team can on balls 2,4 and 6. Each umpire would bowl inflatable beach balls that are worth 1,000 runs if the batsmen hits it with a reverse sweep while blindfolded.

— troy himself (@troy__himself) November 16, 2020
Me after reading new BBL rules #BBL10 pic.twitter.com/BlTLPwS0UF

— Prashant (@prrashantt) November 16, 2020
How about Super Stump – give the bowling team 2 overs where they have an extra stump to aim at 🙈🙈🙈🙈

— Ash Goldsmith (@AshRCC) November 15, 2020