Pakistan v England T20I series- Pakistan Player Ratings
Updated - Nov 30, 2015 9:42 pm
16 Views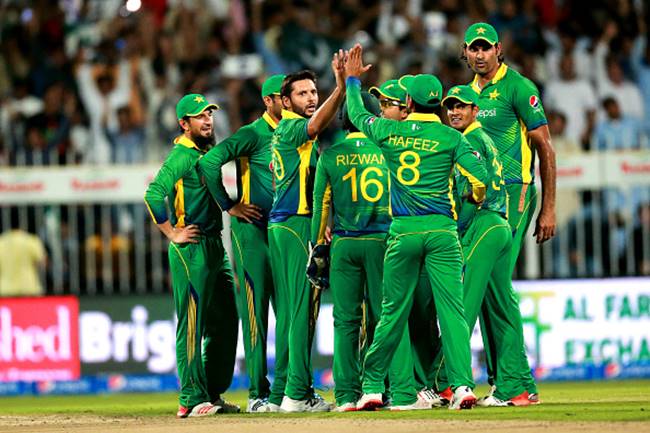 Pakistan had one last chance to save their face in the UBL T20I series. However, luck was not in their favor as they continued their losing streak and lost the 3rd T20I in a super over. After being set a target, Pakistan managed to equal it and that dragged the game into the super over after a match-saving knock by Shoaib Malik and a blistering cameo by Shahid Afridi.
In the super over, Afridi and Umar Akmal came out to bat, but there were no fireworks as Chris Jordon kept them in their limits and conceded just 3 runs. England pair of Eoin Morgan and Jos Buttler eventually chased down the 4 runs target with ease and sealed the series 3-0. The bowlers were below average, but the batsmen batted immaturely. Overall, it was a dismal performance by Pakistan which will affect them badly as most of their players were under par with their game. Here are the Pakistan player ratings for the T20I series.
Ahmed Shehzad- 4/10:
Ahmed Shehzad could muster only 32 runs in this series. He was played by Pakistan in only two out of the three matches and though he had a good first game in the 2nd T20I but was out for just 4 in the 3rd match. He continued his bad run of form in the T20I series. The stylish right-hander needs to self-assess his game if he really feels to put an end to his dismal performances.
Sarfaraz Ahmed- 5/10:
Sarfaraz Ahmed was yet another unexpected disappointment for Pakistan. The wicketkeeper-batsman opened the innings in the first match but was out cheaply and batted at number seven in the second match where he could manage only 19 runs during the chase which Pakistan lost narrowly. Overall, Sarfaraz managed only 20 runs in this series and effected 3 dismissals behind the wickets.
Mohammad Hafeez- 4/10:
Mohammad Hafeez, easily the most experienced player in the side at the moment, was the biggest frustration for Pakistan in this series. He could not play a single good knock in the whole series and accumulated only 33 runs. Hafeez is an important part of the Pakistan line-up and must try to get back into his batting groove as early as possible.
Rafatullah Mohmand- 3.5/10:
Pakistan's oldest debutant, Rafatullah Mohmand, who debuted for Pakistan with enormous first-class experience, was an absolute failure in this series. He batted like a rookie in the first match and struggled to score runs. He eventually ended the series with mere 39 runs to his credit.
Shoaib Malik- 9/10:
Shoaib Malik stole the show with his awesome batting display in the last T20I. He came out to bat while chasing in both the matches and played with utmost responsibility. Malik ended the series with 101 runs to his name. His 70-run knock, which almost won the game for Pakistan, was his best in this series. He also contributed as a bowler and claimed two wickets in the series. Malik picked 1/8 in his two overs spell in the second T20I which happens to be his best bowling performance of the series.
Mohammad Rizwan- 4/10:
Mohammad Rizwan could only gather 30 runs in the two matches he played with his highest score being 24 which came in the third match. The promising youngster from Peshawar was given an opportunity in the T20I series despite performing poorly in the ODI series but, he squandered his chance yet again.
Umar Akmal – 4:
The highly talented Umar Akmal is also the part of the same sad story. Even his willow could not produce any significant amount of runs in this series. Pakistan fans would be highly dissatisfied with Akmal's show as he could only score a total of 26 runs at a measly average of 8 runs in this series.
Shahid Afridi- 8/10:
Pakistan's only bright spot in the series was its captain Shahid Afridi who led them from the front. Afridi brought life into the second T20I with a 10-ball 24 runs knock which nearly took Pakistan across the line during its chase. In the last T20I as well, he played a match-turning innings of 29 runs off 20 balls. Afridi is also the leading wicket-taker for Pakistan in this series with 6 wickets to his name. But he definitely missed out a trick or two with his captaincy.
Shoaib Maqsood- 3.5/10:
Shoiab Maqsood also failed to capitalize his chances. There is not much to speak about his performance in the series. Maqsood was dropped after the first couple of games as he could only score 26 runs in those two appearances. He was given the responsibility in the middle order, but he did not justify his place in the team.
Aamer Yamin- 5/10:
Aamer Yamin played only in the last T20I and managed to perform well. He returned with the figures of 1/12 in two over at the end of the day. The debutant got a wicket off the very first ball of the match as well as his bowling spell when he dismissed Jason Roy LBW.
Anwar Ali- 5/10:
Anwar Ali was impressive with the ball as compared to other bowlers. He played in all three matches of the series and managed to get 3 wickets at an economy rate of 6.75 runs per over. He didn't get any considerable chance to bat except the first match where he score an appreciable 14 ball 20 runs knock.
Sohail Tanvir- 6/10:
Sohail Tanvir is the second-best bowler for Pakistan this series with 5 wickets in his pocket. Tanvir clearly lacked the support but created some trouble for the English batsmen in comparison to his peers. However, in the end, the Englishmen were ready for him and they eventually left him ineffective.
Mohammad Irfan- 1/10:
The tall and intimidating bowler got only one chance in the last match to play but could not threaten the English batsmen in any way. He was hammered for 40 runs in his 4 overs spell and was rendered wicket-less in the end.
Wahab Riaz- 2.5/10:
Overall series aggregate of 2 wickets in 2 matches at an economy of over 9 runs per over is not at all impressive from his standards. In a sense, Wahab Riaz leads the Pakistan bowling attack along with Mohd. Irfan therefore, he needs to perform much better than this to make an impact on the opposition and contribute in Pakistan's success in the future.
Imran Khan- 1/10:
Imran Khan got only one opportunity to play in this series. But, unfortunately, he failed to make use of it. He returned wicketless for 42 runs in his four-over spell in the first match. He wasn't selected to play in the next two matches.