Pakistani cricketers should learn to respect India, says BCCI official
Shahid Afridi's comments on Kashmir and Hasan Ali's behaviour at Wagha Border has infuriated BCCI.
Updated - Apr 24, 2018 11:22 pm
2.2K Views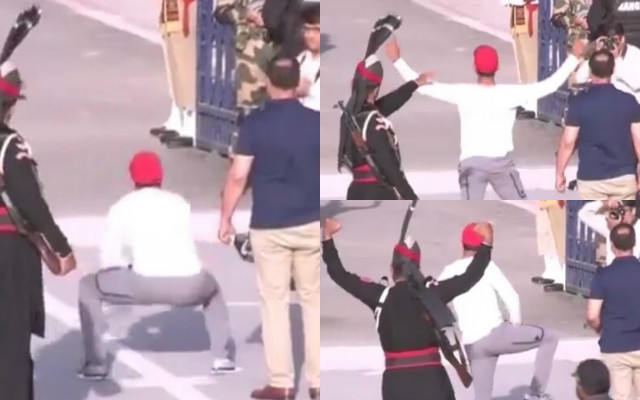 Follow us on Google News
The cricketing ties of the two rival nations India and Pakistan were snapped due to the political and border dispute between the two countries. BCCI decided not to honour the terms of the Memorandum of Understanding (MoU), which was signed for the Indo-Pak bilateral series. While Pakistan Cricket Board (PCB) has often asked their Indian counterparts Board of Control for Cricket in India (BCCI) to agree for a series, the BCCI has paid no heed. Now a senior BCCI official has said that the Pakistani cricketers should first learn to respect their neighbours before they can think of playing a series against India.
At any cost, PCB wanted the series to be worked out. Hence, they agreed to play on any neutral ground and not only in the UAE. But BCCI has rejected all appeals of the men from the other side of the border citing lack of government clearance as the reason for it. Currently, an International Cricket Council (ICC) meeting is going on in Kolkata and PCB chairman Najam Sethi has landed in the country to throw light on this dispute.
However, BCCI has been miffed by the attitude of Pakistani cricketers. Shahid Afridi's comments about Kashmir and Hasan Ali's behaviour at the Wagha Border has infuriated them.
"It is a bit much for Najam to say this when the Patron in Chief of the PCB is the sitting Prime Minister of Pakistan. I would also request Najam to sternly deal with the issue of the recent misbehaviour of the Pakistani cricketer in showing disrespect towards India as a country and other indiscriminate actions and words by former cricketers that do nothing to promote the right atmosphere for cricket. I do hope they at least understand the concept of a 'gentleman'," said a senior BCCI official while speaking to CricketNext.
Lack of government clearance still remains an issue
While BCCI has expressed their inability to agree to a series due to certain government policies time and again, PCB were never in a mood to accept that fact. Hence, once again the BCCI official made their stand clear by saying, "In an ideal world, we would host Pakistan in India and visit Pakistan to play there. Our willingness thus exceeds the willingness of PCB it appears, when we talk only of willingness. However, firstly Najam must understand that BCCI does not decide the policies of the government of India just the way PCB does not decide the policies of the government of Pakistan. We are an Indian organisation that is bound by the laws of India and we have to comply with them, it is not a card for us but a legal necessity. It may be optional to follow the law in Pakistan, but in India it is mandatory."
Follow us on Telegram