The paralyzed version of Virat Kohli
He isn't someone who would shy away from bravely taking his travails head on alike an 'unbreakable bull'.
Updated - Aug 15, 2018 3:47 pm
461 Views
Follow us on Telegram
The mind relaxes when one enters slumber, letting go of the stress, the unending trail of thoughts, allowing the mind to just relax, you expect the sleep to re-energize you for the hassles of the following day. Sleep is a requisite, but what if the dreams boomerang and turn into a nightmare? Virat Kohli was in a world of his own dreams ever since he replaced MS Dhoni as the Test captain.
It's petrifying, not while sleeping, but waking up from it in the middle of the night, unable to move one's limbs, albeit one wants to. The mind gets filled with terror, fear of not gaining back sanity, fear of not being able to extricate oneself from the 'Sleep Paralysis'. Kohli's state of mind against England at the renowned Lord's Cricket Ground was no different if not worse.
One can flay their hands, more in hope to break the shackles, but the demon turns out to be a tad too powerful and spiteful. It laughs at the victim, at its vulnerability, its helplessness, its inability to overpower the monster. For the time being it's comprehensively overshadowing the Indian captain and Kohli has seemed clueless on the 22 yards.
The fairytale
At a time, in 2014 when Kohli was a considerable rookie in Tests, India slumped to their last innings defeat, coincidentally, the city is London- a place which has witnessed quite a few Indian drubbings in the last few years. Probably, it didn't impact Kohli as he wasn't the skipper and MS Dhoni had to take the bullets on his chest, which was impactful enough to make him bid adieu four months later from the format.
For the first 33 Tests as captain, Kohli conquered every possible hurdle, be it his weakness or the opponents. The rivals were mindful of the threats the bearded beast poses. Yet they kept rummaging for answers only to be slapped with dejection. Such was Virat's class, it still is, that even challenges used to bow down to him as he kept scripting his errand. He slept peacefully, his dreams decorated with colourful visuals.
The superpower fizzles out, hopefully momentarily
However, every good thing must come to an end, as they say. The dream was about to take a turn, Kohli wouldn't have expected in his wildest dreams. For the first time, his superpower floundered in Centurion this year. He wielded his magic, scored 153, but couldn't shepherd his team home. As the leader, Virat hiccupped to his maiden series-defeat, reality showed its cruelty and nastiness.
He could feel darkness draping his eyes, though he didn't quite have a clue about what lied ahead of him in the future. The Johannesburg-victory against South Africa somewhat ensured that he didn't get up, maybe a defeat was required to give him a reality check- at some point of time in every individual's career, they need a hefty blow to make them wiser and tougher, both mentally and physically.
After a gap of seven months, he was back to where he tended to stumble a wee bit- Test cricket. For Virat, he got a glimpse of Centurion in Birmingham against England, another ton, this time a knock of 149 runs went in vain. Things weren't in place, he had more than just an intuition. And then, India sank by an innings and 159 runs. It was Lord's- the 'Home of Cricket' for Virat it was the home where Satan existed,
HE WOKE UP.
Don't give up on him, DON'T.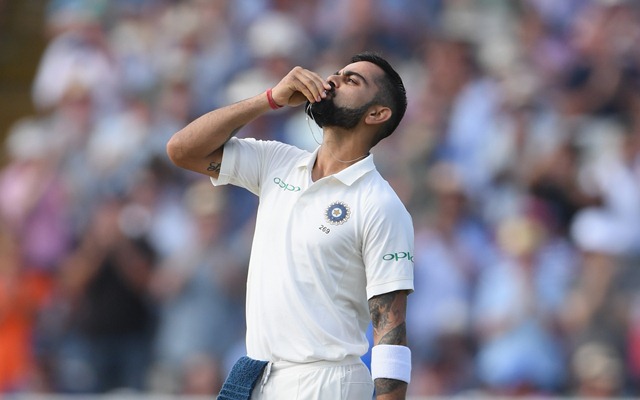 The skies showed dreariness, it refused to shine on Virat and the Indian team- he seemed powerless, stranded, bereft of oomph and eventually succumbed to the venom spilled by the Englishmen. From being a 'celestial tale', his dreams took the shape of 'dread and fright'. Despite being in the stranglehold of the demon, he wanted to help the team with whatever he had.
But, unfortunately, he was pinned, repeatedly. He is lying on his face, but the question is, will he get up? Is he psychologically robust to make himself stand on his feet and take the home team by the scruff of its necks? He is a wounded tiger and being the character he is, the 29-year-old is likely to pounce on his prey with even more aggression and ferocity.
He is down, paralysed, but not out. Ahead of the Nottingham Test, he injured his back, but an individual like Virat, who likes to take ownership in crisis won't want to sit out by any stretch of the imagination. He might be encountering hostility, but he isn't anyone to shy away from bravely taking his travails head on alike an 'unbreakable bull'.
Arthur Golden, a famous American writer once said: "Never give up; for even rivers someday wash dams away."
Never give up, especially when the name is 'VIRAT KOHLI'…
For more news and developments, stay tuned on CricTracker.com.
Follow us on Google News