'Please don't use this bat' – Matthew Hayden remembers MS Dhoni requesting him not to use Mongoose bat during IPL
Hayden batted with the mongoose bat in a few matches during the IPL 2010.
Updated - May 9, 2020 11:34 am
136.6K Views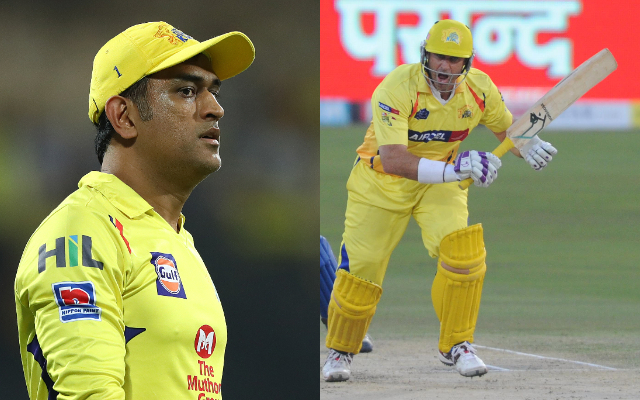 Follow us on Telegram
Matthew Hayden, the name is enough to send the chills down the spines of the bowlers. His aggression at the top of the order irrespective of the format was exciting to watch and he carried the same aura in the Indian Premier League (IPL) as well playing for the Chennai Super Kings (CSK). Interestingly, it was him who first started using the Mongoose bat in the T20 tournament.
Mongoose bat was trending during the IPL 2010 season especially after Hayden scored a stroke-filled 93 off just 43 with it against the Delhi Daredevils (now Capitals). Rather Suresh Raina recently termed it as his favourite IPL moment during a recent interaction. But the CSK skipper MS Dhoni never liked the bat and had requested Hayden not to use it as well.
The former Aussie opener went live with anchor Rupha Ramani on CSK's official Instagram handle where he shared interesting anecdotes during his time with the franchise.
Matthew Hayden still has the Mongoose bat with him
During the interaction, Matthew Hayden was asked about the much debated Mongoose bat. Interestingly, he still had it with him and showed it on the screen as well and then also recalled an incident when the Dhoni had asked him to not use it in the tournament. However, the Australian still seems to be in favour of the bat and feels he made the correct decision to use it then.
"I get a lot of questions around this particular product (Mongoose bat). I remember MS Dhoni saying, 'Mate, I will give you anything you want in your life, please dont use this bat'. But, the fact is, when I hit from the middle of this bat, it goes 20 metres further. That bat was step in the right direction and it was a brave and courageous decision to use it," Hayden said.
However, the mongoose bat completely vanished from the scene since then as not many batsmen used it and eventually it faded away after making news for the most part of 2010.
#Thala Dhoni to Haydos: "I'll give you anything you want in life, to not use this bat! Please do not use this bat!" 😂🦁💛 @HaydosTweets #AnbuDenLions @RuphaRamani pic.twitter.com/Hm5wSCzLWH

— Chennai Super Kings (@ChennaiIPL) May 8, 2020
Follow us on Google News