Policemen took me and my dad to the police station and abused us: Pranav Dhanwade
Updated - Dec 18, 2016 11:53 am
72 Views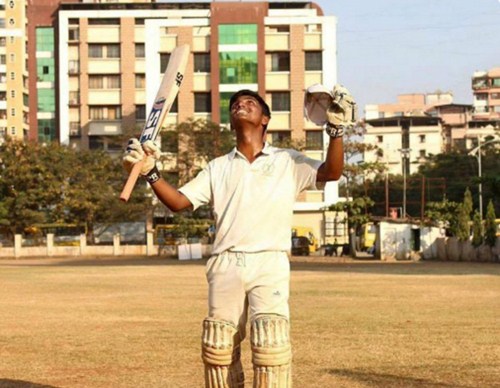 Mumbai's age group cricketer Pranav Dhanwade who created history this year by scoring 1009* runs in a U16 match in Kalyan was yesterday taken into custody by the Kalyan Police. Dhanwade along with his teammates were practicing at the Subhash maidan when the cops came in and asked them to vacate the ground since the helicopter of Union Minister for Human Resource Development Prakash Javadekar was to land in the ground.
The boys stopped their practice immediately and moved to the corner of the ground to cool down and stretch before heading back home. The two constables who were there to get the area cleared weren't willing to give them the time and that is when Pranav was involved in an argument with them. The heated exchange landed him and his dad at the police station.
Talking to ANI today he the 16-year-old said, "We were playing at Subhash maidan when policemen asked us to leave,a helipad was made as some politician was supposed to land there. We requested them to allow us few minutes to stretch and then we will leave but they didn't listen and instead became abusive" Dhanwade said.
"My dad was also there, policemen took me and my dad to Police station. The Senior Police Inspector at the station abused us."
His father Prashant was quoted by DNA saying, "The children were playing at the ground, when the policemen asked them to leave. While the children requested them to let them carry on with their fitness practice for a couple of minutes, the police denied their request. Pranav was just standing there with the other children, and I too was present. The other children asked the police why the ground was chosen for the helipad instead of other places. They also asked for a notice or a copy of a written order from the police. When the argument heated up, we were both dragged to the police station in a police jeep. The Senior Police Inspector at the station abused us. It was only after the Assistant Commissioner of Police came to the police station, that we are asked to leave,"