Politics in the sport ruining the future of Sri Lankan Cricket
Is the future of Sri Lankan Cricket in wrong hands?
Updated - Aug 21, 2017 7:57 pm
1.7K Views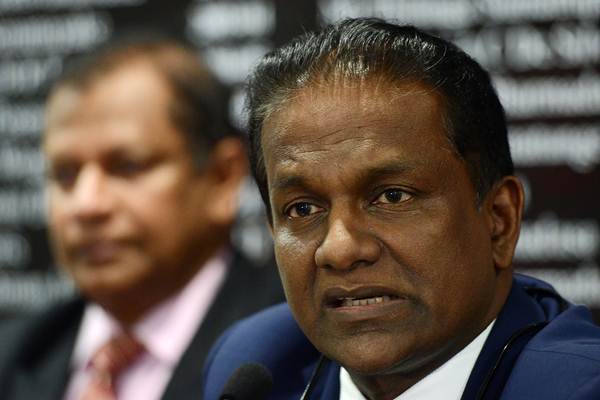 By now the cracks within Sri Lankan Cricket is visible and is now out in the open. It is the unholy tri-factor of Dayasiri Jayasekara, Thilanga Sumathipala and Asanka Gurusinha which is ruining the future of Sri Lankan cricket. Former Sri Lankan cricketers and administrators have resorted to blame-games with the recent turmoil in cricket of the Island Nation.
Sri Lanka's performance has dipped to a new level with the abrupt departure of former coach Graham Ford. Sri Lankan was bereft of the services of South African post-Sri Lanka's exit in the Champions Trophy, after facing defeat against eventual winners of the tournament Pakistan.
Since then, they lost to Zimbabwe in the 5-match ODI series by a margin of 3-2, to shock the entire cricketing eternity. They lost the Test series to India comprehensively as the visitors whitewashed the three-match Test series. It was only then Arjuna Ranatunga demanded an interrogation against Sri Lanka Cricket President Thilanga Sumathipala after the former accused the latter of having links with betting and gambling links.
Future of Sri Lankan Cricket in the wrong hands?
If we look at the records of Sri Lanka post the retirement of the legendary trio of Jayawardena, Sangakkara, and Dilshan, the Lions' performance have stooped down since the tenure of Dayasiri Jayasekara as the Sports Minister and Presidency of Thilanga Sumathipala.  The duo has been under the radar lately and the two have been taking caution for every move they make.
A classic instance occurred during the 1st ODI at Dambulla when the duo was present to witness the match between India and Sri Lanka along with other delegates. It was only then Sri Lankan team manager Asanka Gurusinha, arrived on the scene and took to the floor to sit down.
Even after repeated requests to Gurusinha to sit beside the minister, the team manager continued to take his place on the floor. That was only when Dayasiri quoted, "Rise up, or tomorrow it will get messy …" Gurusinha did not heed to request and therefore Dayasiri and Sumathipala left the entire scene.