Pragyan Ojha banned from bowling due to suspected action
Updated - Dec 27, 2014 6:40 pm
60 Views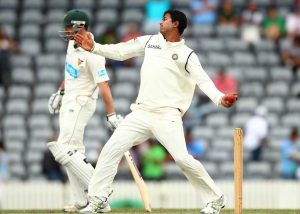 Follow us on Telegram
Pragyan Ojha banned from bowling due to suspected action: Out of favour off-spinner Pragyan Ojha has been banned from bowling in competitive action after his action was found to be illegal. He will be heading next to Chennai for correcting his action. Ojha's action was checked by ICC testing centre in Chennai for quite a time now, before the finally decided to ban him from bowling.
Pragyan Ojha was about to play for Hyderabad on Sunday against Services for the Ranji Trophy encounter, but they have asked the Hyderabad association about his suspected action and that it needs corrective measures. He was accordingly withdrawn from the team. (Also Read Banned Bowlers in 2014)
Ojha, being one of the quickest to 100 test wickets, has been out of selection for quite a while now due to doubts regarding his action. Ojha usually bowls in full sleeves, and was a corner of criticism for reportedly hiding the kink in his elbow, which is above and over the permissible limit of 15 degrees.
HCA (Hyderabad Cricket Association) has said they have received a letter from BCCI regarding suspension of the player from bowling again and to sent him to Chennai for remedial measures. Ojha was also released by his IPL franchise Mumbai Indians, earlier this year. He bowled for the first time in short sleeves in his career, against Kerala owing to former umpire Jayaprakash's claims regarding his action.
Follow us on Google News