Preity Zinta and Juhi Chawla turn commentators during KXIP v KKR encounter
"Veer Zaara is very special to me" says Preity
Updated - May 10, 2017 4:38 pm
4.9K Views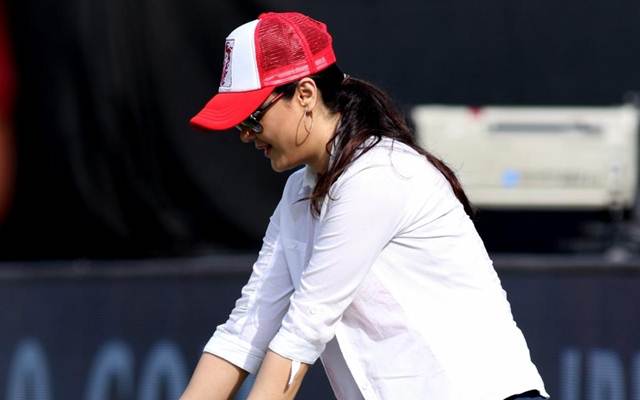 Preity Zinta's zest and Juhi Chawla's support for their respective teams has been a common sight every year of the IPL since its inception way back in 2008. They have been the co-owners of Kings XI Punjab and Kolkata Knight Riders for many a year now.
Juhi Chawla represents the Red Chillies Entertainments and is a part owner of the firm along with the Baadshah of Bollywood 'Shahrukh Khan'. Kolkata Knight Riders have won the tournament twice by now as they led their successive campaign in 2012 and 2014.
Last night Gautam Gambhir's side took on a spirited Kings XI Punjab side at PCA Stadium, Mohali. Glenn Maxwell and co. caused an upset as they defeated the second placed side on the Points Table and opened up the league during the business end of the tournament.
Glenn Maxwell and Wriddhiman Saha powered the Punjab total towards 168. Despite a swashbuckling inning from  Chris Lynn, Kings XI Punjab managed to win the match by 14 runs to stay in the reckoning for the playoffs. Mohit Sharma was awarded as the man of the match for his brilliant spell of bowling.
However, Juhi Chawla and Preity Zinta were busy behind mic commentating the match for UC News. The former Bollywood queens further answered a wide range of queries from the fans. Preity Zinta also revealed how she met her husband Gene Goodenough.
"I met him in Santa Monica and yes, we fell in love" stated the 42-year old actress. Meanwhile, Juhi Chawla named her all time favorite cricketers. It was none other than the Master Blaster Sachin Tendulkar and former Indian captain Mahendra Singh Dhoni.
Preity Zinta also revealed her all time favorite movie. She confirmed that Veer Zaara was the most endearing movie she has been a part of. "Veer Zaara is very special to me" revealed the actor. Juhi Chawla also stated that Darr was her favorite movie.
.@iam_juhi is all excited and ready to support her team #KKR. #MasalaCommentary https://t.co/XvYBLQm4sG pic.twitter.com/eUod6R4Xb8

— UC News (@UCNews_India) May 9, 2017
Did you see that? @realpreityzinta is busy doing #MasalaCommentary with @iam_juhi on UC News app. https://t.co/XvYBLQm4sG pic.twitter.com/BNH3ohM2kp

— UC News (@UCNews_India) May 9, 2017
.@iam_juhi & @realpreityzinta are the selfie queens 🙂 #MasalaCommentary https://t.co/XvYBLQm4sG pic.twitter.com/TADW9BKnfF

— UC News (@UCNews_India) May 9, 2017
It's truly a masaledar Tuesday with @iam_juhi supporting her team #KKR like a queen. #MasalaCommentary https://t.co/XvYBLQm4sG pic.twitter.com/f3kyEZXyHx

— UC News (@UCNews_India) May 9, 2017
The ladies are quite impressive! @iam_juhi & @realpreityzinta are showing off their skills with #MasalaCommentary https://t.co/XvYBLQm4sG pic.twitter.com/j9C3kyIIBP

— UC News (@UCNews_India) May 9, 2017
.@iam_juhi is killing it with her expressions. So cute she is. #MasalaCommentary on UC. https://t.co/XvYBLQm4sG pic.twitter.com/DDCifOAzzE

— UC News (@UCNews_India) May 9, 2017
Don't you just love how @realpreityzinta & @iam_juhi enjoying their time in #MasalaCommentary ? https://t.co/XvYBLQm4sG pic.twitter.com/UjTwbXYXMc

— UC News (@UCNews_India) May 9, 2017
.@iam_juhi is enjoying her team's performance. #MasalaCommentary https://t.co/XvYBLQm4sG pic.twitter.com/TfUOQEqmmt

— UC News (@UCNews_India) May 9, 2017