Presence of Virat Kohli and Glenn Maxwell takes pressure off me: Kyle Jamieson
"The way he approaches the game compliments the way I like to," said Kyle Jamieson, while speaking about Virat Kohli.
Updated - Apr 17, 2021 3:30 pm
4K Views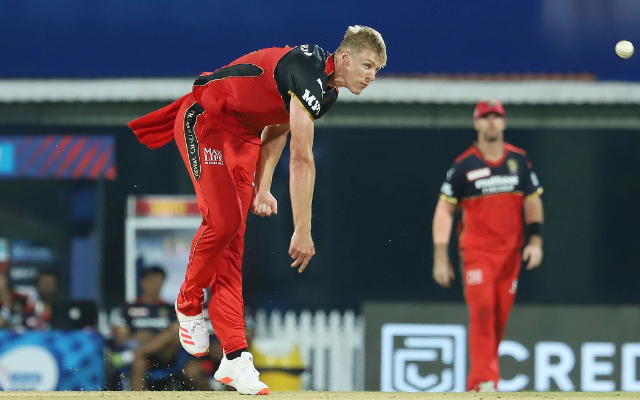 A price tag of INR 15 crores can get into the head of any cricketer across the globe. Especially, if it is your debut season in the Indian Premier League. But the tall New Zealand speedster Kyle Jamieson has not let the pressure of the price tag hamper his performance. He has stated that the presence of experienced cricketers like Virat Kohli and Glenn Maxwell takes the pressure off his shoulders.
Jamieson had a commendable debut in IPL, as he picked up a wicket and conceded only 27 runs. In his second match against the Sunrisers Hyderabad, he got the all-important wicket of David Warner and scored 12 runs, which turned out to be very crucial in the end.
In a press conference organised by the Royal Challengers Bangalore, Jamieson opened up on his experience of playing in IPL so far and how he is bonding with the team. On being asked about whether playing alongside superstars like Virat Kohli and Glenn Maxwell adds any extra pressure, he opined, "It doesn't add any extra pressure. If anything, it takes the pressure away."
"Those guys (Kohli and Maxwell) are so good. They have done great for a number of years all around the world. I'm trying to take their learnings and apply it in my game and my role in this team," he further added. Kyle Jamieson was also asked to share his experience of playing under the leadership of Virat Kohli.
"It has been so good so far. He is such an experienced and skillful leader. The way he approaches the game compliments the way I like to. He is competitive, aggressive, and likes to take the game on – these are things I would like to adopt as well. It filters through the team as well, in the way we try to play our cricket," the 26-year-old added.
Grateful to have AB de Villiers in our team, says Kyle Jamieson
While Jamieson is doing his basics right, bowlers will need to devise special plans in IPL to dismiss innovative batsmen, who can play shots all across the field. One such batsman in Mr 360°, AB de Villiers, with whom the Kiwi speedster is planning to have a discussion about.
"I haven't spoken to him about it (how to get innovative batsmen out) just yet, but I am certainly looking to tap into it," said Jamieson. Speaking about de Villiers' influence in the squad, he added "AB de Villiers is such an experienced player and has got a great record, not just in India but all around the world. Having guys like him in the team to bounce ideas off is something I am very lucky and grateful for," he added.