Prithvi Shaw, can you temperamentally be Sachin Tendulkar?
Does Shaw have the tenacity to mentally sustain if he doesn't taste immediate success?
Updated - Aug 24, 2018 5:32 pm
428 Views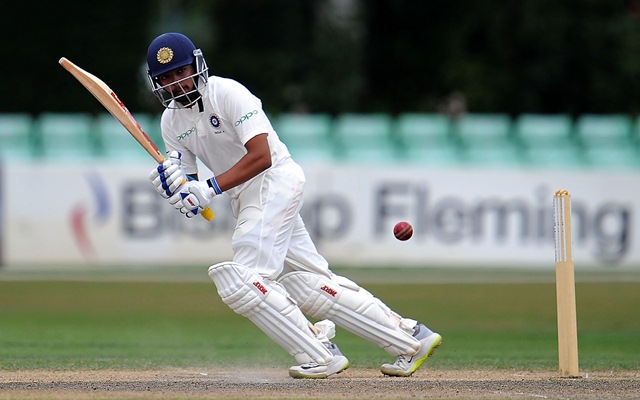 Follow us on Google News
Sachin Tendulkar had eyes of a hawk, an attribute, which ensured that hardly any opportunity eschewed his retina, bowlers who used to be bashed into oblivion would be mindful of it. Ten years ago, at the age of 35, his hand and eye coordination wasn't alike his heydays, but he was still an enigma for bowlers. Moreover, he was an identifier, so much so that he presumed Prithvi Shaw's career when he was eight.
Ten years later, here goes Shaw to England, basking in glory and trance- the national jersey embracing him, hopefully not to betray him. He will officially be a part of the Indian dressing room at The Rose Bowl, if not the 22 yards. But the 'Rose' is wrapped with 'thorns' as far as Prithvi's career is concerned. The question is whether he possesses the maturity to bifurcate the rose's exotic aroma from the thorns.
Not a bad start, Mr. 14-year-old
November 20, 2013, Harris Shield, Mumbai's very own inter-school tournament, a 14-year-old flayed the willow and stockpiled 546 runs at a strike rate of 165.45, a knock laced with 85 boundaries. It didn't give him a Hasan Razaesque- international debut, but it shot him to fame nevertheless. However, the extravagant display of strokeplay rewound the mind 25-years back in 1988.
It was the same year when another player captured the imaginations of supporters, no prizes for guessing, it was the Master Blaster himself, who was 14, two months short of 15, approximately the same age as Shaw would be. Sachin forayed into the highest level at 16, Shaw at 18, both teenagers. Shaw had to strain a wee bit though, play the U19 World Cup and a handful of first-class and List A matches.
Drive on the highway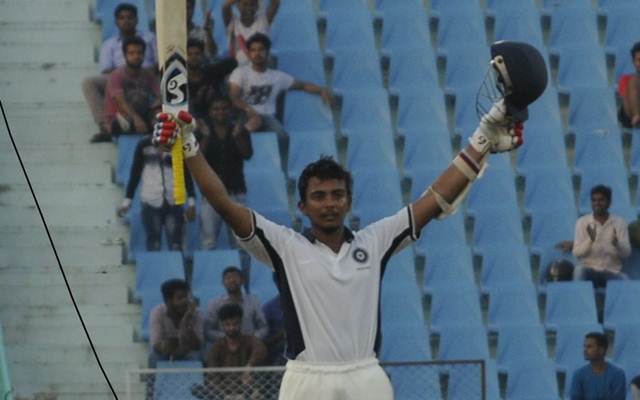 2016-17 Ranji Trophy semi-final: A mere 17-year-old smacked 13 fours and a six to score 120 runs and helped Mumbai track down 251 to win the contest against Tamil Nadu. Surprisingly, it was his maiden first-class appearance. Coincidentally, it wasn't any different for Sachin as even he racked up a century in his debut game against Gujarat in 1988, which paved his way into the national setup.
Meanwhile, Shaw didn't flatter to deceive in the final and scored 71 runs. The strike rate (77.59) and average (59.75) revealed the intriguing elements of his two-match season. The next edition saw him notch 537 runs, most importantly with three tons at a strike rate of 75.10. In the same year, he became the youngest to score a ton on Duleep Trophy debut, a record previously held by Tendulkar.
World Cup, IPL, and the 'A' jersey – The laurels keep on adding
December 3, 2017: Shaw was appointed as the captain of U19 World Cup squad. Exactly a couple of months later in February 2018, he brought glory home. India remained unbeaten and humbled Australia in the final. In the meantime, from INR 20 lakhs, he fetched an astounding INR 1.20 crores from Delhi Daredevils in the glorified Indian Premier League (IPL) auction.
An average of 27 in nine matches with two fifties at a strike rate of 153.12 isn't measly numbers by any means. The stint was good enough to get him drafted into the India 'A' team, the final frontier before breaking into the national team. Three centuries and two half-centuries on the English tour under taxing conditions wasn't insignificant enough for the national selectors to ignore.
One thing was for sure that the Young Turk wasn't going to die wondering by any stretch of the imaginations. His records and numbers have pretty much been alike Sachin. But does that make him equivalent to the Master? A little too early to make a judgment. One aspect of Shaw hasn't been tested just yet. Is he temperamentally robust like Sachin?
Coming to the temperamental aspect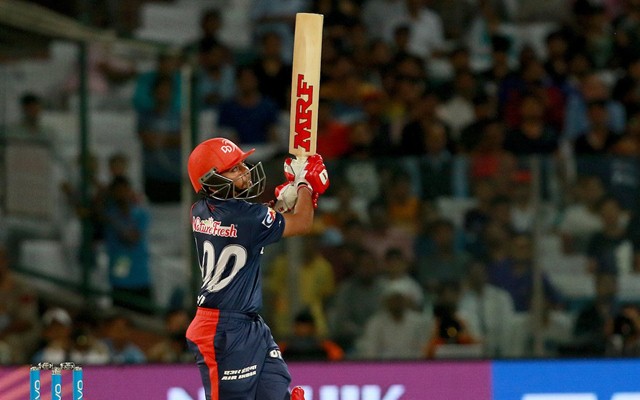 Back in 1989, Sachin Tendulkar made his debut against Pakistan in Karachi. He scored 15 runs in his maiden innings, but the knock would be reminisced for the guts he had shown. The retired cricketer would never forget the incident when he was smacked on his nose by a bouncer from Waqar Younis, an occurring which was required to grill him for further challenges.
'Mai Khelega'   
The two golden words, after he found himself swathed in a pool of blood, turned his career around. His boundary of the very next delivery wasn't mere runs, it was an announcement to the big daddies that he was there to strain every sinew even if opponents tried to cripple him psychologically. Shaw doesn't have to counter the venom spewed by the likes of Wasim Akram and Waqar Younis.
James Anderson and Co may not pose the same threat as them, but the challenge remains. It's yet not known whether Shaw would be a part of the eleven in Southampton, something which is unlikely for the time being. Meanwhile, more than playing or scoring runs, he needs to accept the fact that failures can slap him right across the face.
Tendulkar had to wait for 14 Tests in two years to notch his first ton, does Shaw have the tenacity to mentally sustain that long if he doesn't taste immediate success? He has none other than Sachin Tendulkar, who also belongs to the same city, Mumbai, to look up to.
Can he match the temperament of Sachin Tendulkar?
For more news and developments, stay tuned on CricTracker.com.
Follow us on Telegram