Quiz: How well did you follow MI during IPL 2020?
Test out your luck of following the MI team during IPL 2020.
Updated - Nov 16, 2020 4:50 pm
7.8K Views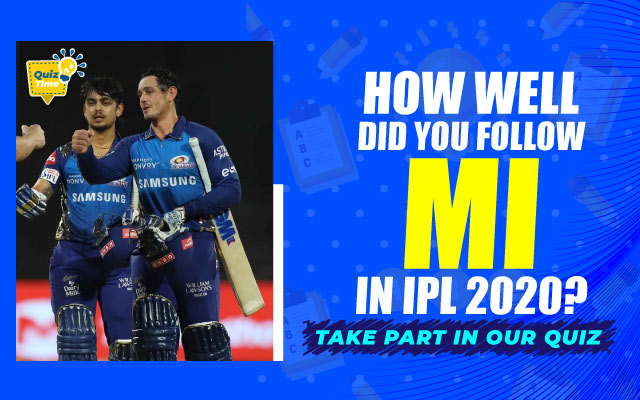 Mumbai Indians won the Indian Premier League (IPL) for a record 5th time but their performance in 2020 was easily the most dominant one among those five titles. In fact, the effort which Mumbai franchise put during the IPL 2020 was probably one of the best performance ever put by any team in a single edition of the league history. Mumbai lost only five matches through the tournament and two of them came during the Super Over. One of those Super Over defeats of MI came in the second round of Super Over.
All the remaining three defeats came while defending a total including one in the tournament opener. The defeat continued Mumbai's streak of losing the first match of an IPL season which began in 2013. Another outright loss came in the last game of the league phase where they decided to rest their bowling weapons Trent Boult and Jasprit Bumrah. The defeat hardly made an impact over their performance in the playoffs where they thumped Delhi Capitals quite comfortably that too twice.
The performances by Ishan Kishan and Suryakumar Yadav throughout the tournament boosted the batting strength of the Mumbai Indians. Ishan, who had two ordinary tournaments with MI, aggregated a record 516 runs in IPL 2020 to finish as the team's leading run-getter. He smashed a total of 30 sixes through the tournament which is the most by any player. Suryakumar carried his consistency from the previous two seasons and added an attacking approach to his batting.
Kieron Pollard acted as a cushion to the MI's batting and also in the leadership during the absence of Rohit Sharma towards the end of the league phase. Rohit had an indifferent tournament with the bat but did not stop him from sending the ball out of the park as his teammates did. The starts produced by Trent Boult with the ball proved to be enough for MI, especially in the powerplay. Later, it was Jasprit Bumrah who usually took the charge as the Indian speedster ended with 27 wickets across the 15 games he played.
Test out your luck of following the MI team during IPL 2020!
If the quiz is not loading properly, click here