Quiz: How well did you follow Mohammad Amir's International career?
How well do you know Mohammad Amir's International career?
Updated - Dec 26, 2020 5:01 pm
1K Views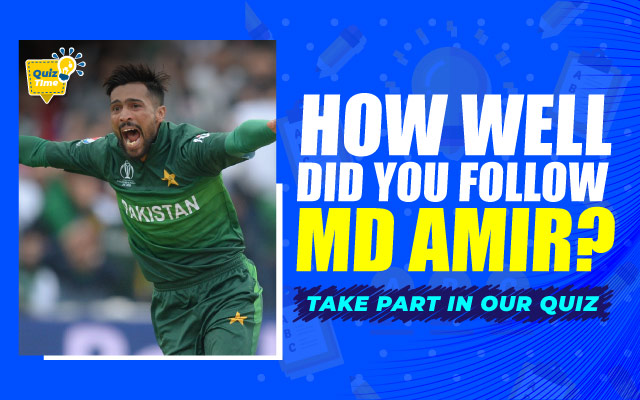 Mohammed Amir announced his retirement from international cricket earlier last week despite him being a 28-year-old only. The left-arm pacer did feature in only 147 matches across all the three formats in international cricket. Amir stated 'mental torture' by the Pakistan team management for sidelining him deliberately. Amir's preference to the T20 franchise leagues ahead of the Test cricket seems to have not gone well in the management's books which led to his regular axing in the last couple of years.
Mohammad Amir did say about his relations with Misbah-ul-Haq and Waqar Younis in his interview where he announced his call to quit from his Pakistan career. This happened days after he was part of the Galle Gladiators in the inaugural edition of the Lanka Premier League. Amir will be plying his trade with the Pune franchise in the Abu Dhabi T10 League during the first quarter of 2021. The left-arm pacer is to be a regular appearance in the T20 leagues all over the globe from here on.
Amir's International career could have been longer and even more successful if not for the involvement in the Spot Fixing scandal in 2010. The then 19-year-old was made to stay away from international cricket until the start of 2016. Bowling no-balls deliberately during the 2010 Lord's Test against England under the influence of the skipper Salman Butt and pace spearhead Mohammad Asif had nearly costed the career of Amir. He did make his return to professional cricket in 2015 only by playing BPL.
Mohammad Amir suffered a backlash from the own teammates in the Pakistan team in the process of his return to the national team. However, the backing of the then PCB chairman Najam Sethi and Shahid Afridi worked in the favour of Amir's International retirement. Amir appeared for Pakistan in five calendar years since 2016 where he had many memorable performances but nothing beats his opening spell against India in the 2017 Champions Trophy at The Oval.
Take part in our quiz:
If the quiz is not loading properly, click here