Quiz: How well did you follow RCB during IPL 2020?
Are you one of the RCB fanatics? Take our Quiz and prove it!
Updated - Nov 16, 2020 12:01 pm
6.7K Views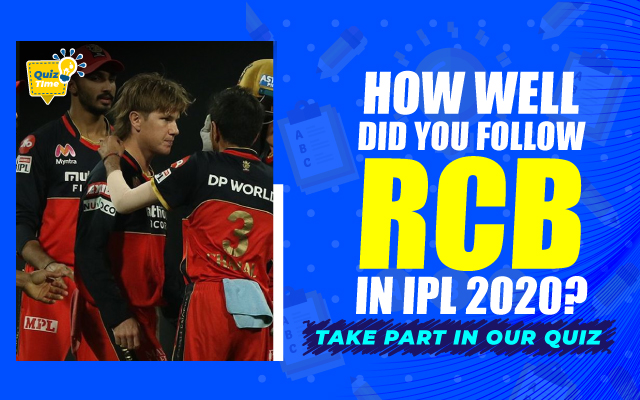 Despite not being able to win an IPL title even once, Royal Challengers Bangalore (RCB) happens to be a team with a colossal fan-base. A team led by arguably one of the finest players in the history of the sport, RCB has boasted the most scintillating players from world cricket over the years. One just fails to understand why a team with potential and caliber as high as that of the Challengers has not been able to leave an impression on the league with the same authority that many other teams have been able to.
Somehow the campaign of "Ee sala cup namde" has reduced to a mere anthem. Year after year, RCB has played and found itself finishing exactly where it would not like. A new season would arrive, the anthem would be all around again, the season would end, and the anthem would remain unfulfilled. To their fans' delight, in 2020, the team appeared to be running parallel to the expectations from them. This year's IPL was changed in unprecedented ways in the wake of the COVID-19 pandemic, and what also seemed to be changed was the intent and the determination of the team.
While Aaron Finch and Devdutt Padikkal gave the team some solid starts, Vira Kohli and AB de Villiers kept the hustle on in the middle-order. Spinners Washington Sundar and Yuzvendra Chahal struck well together, whereas Chris Morris impressed with his all-rounder abilities. Firing in unison, the team managed to win seven out of the eleven games they first played and looked in contention for a top-two finish.
However, the Challengers lost their way completely and a slump arrived at the worst possible time. Placed second with seven wins, RCB lost four on the trot and lost the chance to secure a top-two finish, and consequentially, the privilege of having two chances to reach the finals. In the Eliminator, they locked horns with the Sunrisers Hyderabad, who rolled over them to bring another unsuccessful season to an end.
Quite certainly, being an RCB fan is not an easy task. Nevertheless, given the loyalty and immense support, the fans have shown over the years, one can expect that they would still back the Men in Red to come strong next year. Are you one of the RCB fanatics? Take our quiz and prove it!
Happy quizzing!
If this quiz isn't loading, click here
Follow us on Google News