Quiz: How well did you follow Virat Kohli in International cricket?
Try your luck in finding out how well did you follow Virat Kohli in International cricket
Updated - Jun 25, 2021 5:06 pm
563 Views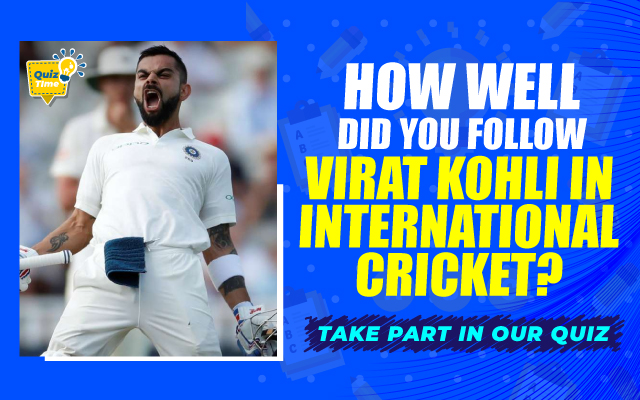 There are very few cricketers who have been considered as the legends of the game in the very early stage of their career. Indian captain Virat Kohli is amongst those greats and is often touted as the modern master. He has created incredible records and milestones to his name. Virat has been the backbone of the Indian batting line-up for more than a decade now.
The prolific batsman came into the limelight after he won the Under-19 World Cup as a captain in 2008. His rising popularity and good performance in domestic cricket were remarkable at a very young age. Virat got a call-up in the Indian ODI team for the Sri Lanka tour in 2008.
Just before the first ODI, Indian opener Virender Sehwag got injured, and Virat got a chance to make his debut in the very first game of the series. He could not capitalise on the opportunity and got out after scoring only 12 runs. In the fourth match of this series, the young gun smashed his first half-century scoring 54 runs off 66 balls.
After his debut ODI series, Virat Kohli did not get a chance in the national team for more than a year. Just a few days before the start of the Champions Trophy in 2009, India's then vice-captain Yuvraj Singh was injured, and Virat Kohli was called in as a replacement. He made his presence felt with a brilliant knock of 79* runs against the West Indies in the tournament. Later in the same year, he smacked his first ODI century in the game against Sri Lanka.
The stylish batsman played some really good knocks on the road to the World Cup 2011 and was eventually picked up in the Indian squad. He started his journey in the tournament with a century but failed to impress in the following matches. The youngster was given the maiden Test cap against West Indies in June 2011. He also made his T20 debut earlier against Zimbabwe in 2010.
Virat Kohli played an incredible knock of 133 runs against Sri Lanka in the 2012 CB series which changed his career forever. The batsman got a new tag of chase master, and he lived up to this name on many occasions thereafter. Virat got immense success in the 2010s decade and broke multiple records in this period.
Try your luck in finding out how well did you follow Virat Kohli in International cricket?
If the quiz doesn't load, please click here
For all the latest news, live scores, schedule, point table & updates, stay tuned to CricTracker.
Follow us on Telegram