Quiz: How well do you remember the IPL hat-tricks?
Tighten your belts and show us how many of the 19 hat-tricks do you remember. Be honest! And happy quizzing!
Updated - Sep 15, 2020 3:09 am
1.2K Views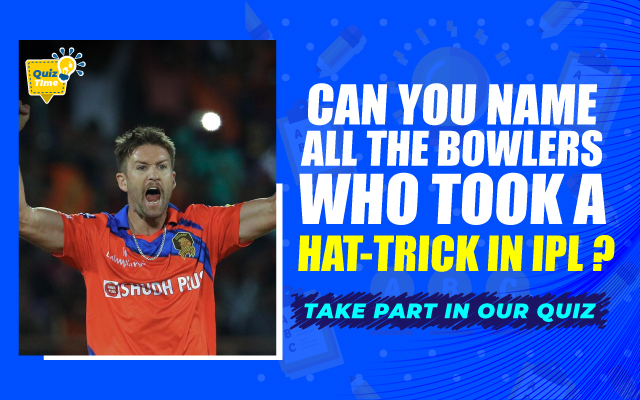 The shortest format of the game is often referred to as batsmen's paradise. And it is only fair to term it that given the way the game has changed in the last two decades or so. Being a bowler in the modern-day is by no means an easy task. The game of cricket, especially in the 20-overs format, is expected to be full of batting pyrotechnics and fast-paced scoring.
Even from a general perspective, the gulf between the two pivotal tools of cricket – the bat and the ball – is ever-widening, and the game is increasingly becoming a batsmen-oriented sport. From smaller grounds to shorter boundaries, heavier bats to flatter wickets, two different balls from each end, and fielding restrictions, the list of bowlers' problems have grown only longer in the times gone by.
Sighting a batsman pummeling three or four sixes in a row is no more a rare sight in cricket. But how often do we see a bowler bagging three wickets in three consecutive balls? A hat-trick is an extremely difficult and rare feat to achieve. You know that cricket is batsman's game when you remember each one of Virat Kohli's IPL centuries, AB de Villiers' destructions, Chris Gayle's 175, and Brendon McCullum's 158, but do not remember even half as vividly the hat-tricks of the bowlers.
What? You do? Really!? Well, then prove it! There have been 19 hat-tricks in the history of the IPL thus far. While the editions of 2008, 2009, and 2017 recorded three hat-tricks in a single year, the seasons of 2013, 2014, and 2019 recorded two each. 2015 is the only such year when no bowler picked a hat-trick, whereas all the remaining editions i.e. 2010-13, and 2016, recorded one hat-trick each.
This was just to brush you up a bit before you jump into the challenge brought to you exclusively by CricTracker. So tighten your belts and show us how many of the 19 do you remember. Be honest! And happy quizzing!
If the quiz is not loading properly, click here
Follow us on Google News