Quiz: How well have you followed Ajinkya Rahane's Test career?
Can Ajinkya Rahane get his mojo back soon?
Get every cricket updates! Follow us on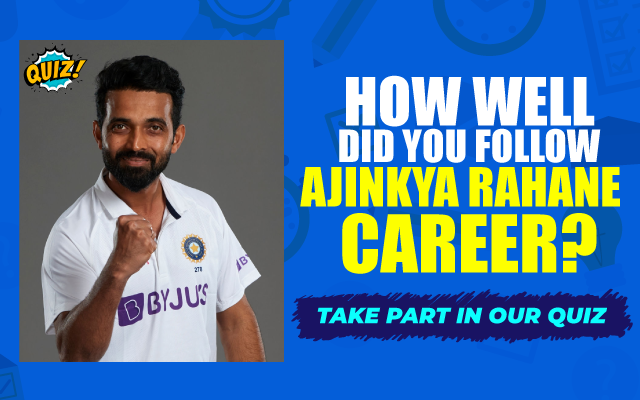 Ajinkya Rahane, the stylish Mumbai batter, made his Test debut for India way back in the year 2013. When he came in, he was expected to fill the big shoes of the Indian batting legend VVS Laxman. As India was entering a new era after the retirements of duo Rahul and 'Very Very Special' Laxman, Cheteshwar Pujara and Ajinkya Rahane were considered as their respective replacements. Rahane took the vacant no.5 spot and he didn't disappoint as he got to his first Test century after just eight innings.
Rahane then became a regular member of the Test side which also benefited him in getting a place in the T20Is and ODIs setup too. His calm and composed technique looked perfect for the longest format of the game and India had found a gem in him as he made that no.5 spot of his own. He didn't look back as he went on performing and took the middle-order responsibility perfectly for team India. He even led India on several occasions in regular skipper Virat Kohli's absence.
Ajinkya Rahane's runs dried up and rough patch began
Meanwhile, it is since the New Zealand tour in early 2020 that Ajinkya Rahane has started to face a lot of criticism for his inconsistent performances and fairly so. He has made just one century and two half-centuries in 29 innings since that NZ tour. 11 scores of single-digits in the last 29 innings just doesn't do justice for a player of Rahane's caliber. In fact, Rahane has been short of runs more in the home conditions than the abroad tours.
The recent England and New Zealand series in India show how the graph of one of India's classic batter has gone down. Such was Rahane's aura in the Indian team that he was handed over the captaincy of the side too whenever the regular skipper Virat Kohli had taken rest.
But the below par performances in recent past has made fans and experts question his place in the Test team. Future of one of India's finest middle-order batter Ajinkya Rahane remains to be seen now that the young blood Shreyas Iyer has grabbed his opportunity with both hands.
Meanwhile, its time to check out your knowledge in this quiz based on Ajinkya Rahane's Test career so far!