Quiz: How well have you followed the first round of IPL 2020?
Pad up and take guard. This is your time to perform now!
Updated - Sep 25, 2020 9:34 am
3.2K Views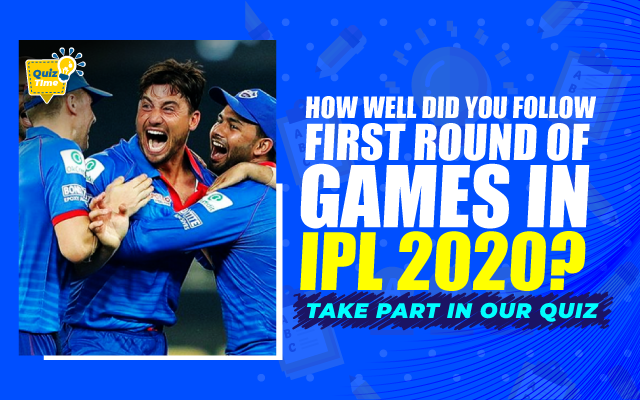 2020 hasn't been a great year for a lot of us. This year we have witnessed pandemic, bushfires, lockdowns, and a number of other tragedies. As much as people were looking forward to the start of a new decade, this year has been every bit disappointing. Obviously, the sport was affected massively too due to the coronavirus. With social distancing norms coming into place, all live sports including cricket were discontinued indefinitely in March.
After a few months of a prolonged lull, cricket finally returned in July with the West Indies and England Test series, much to the joy of cricket fans. But despite a reasonable amount of cricket being played thereafter, all fans were eagerly waiting for the resumption of the ultimate cricketing tournament, the Indian Premier League. Over the years, the vibe and intensity of the IPL have been unmatched and it has become an annual event that every cricket fan looks forward to.
IPL which had been suspended in March was set to return in September, although amidst a number of variables and uncertainties. Due to a great effort put in by administrators, organizers, and a number of other people, IPL successfully began on the 19th of September. The fact that the opening match between MI and CSK witnessed record-breaking viewership in excess of 20 crores made it evident how much fans missed their favorite tournament.
This was the first time since 2009 that IPL was being played entirely out of India. United Arab Emirates is hosting IPL this year and the first week has already been pretty eventful. The players were returning to top tier cricket after quite some time and the rustiness was evident. The UAE pitches aren't as flat as those back in India either hence we saw batsmen fighting it out for their runs. In a handful of matches, we have already witnessed a super over, dashing performances from youngsters, and even an RCB victory!
Everyone seems to be watching IPL 13, but have you really been following it closely enough? To test out how well you remember the important moments of round 1 of this year's IPL, we present to you CricTracker's exclusive quiz for you. Attempt all 10 questions and see how many you get right.
Pad up and take guard. This is your time to perform now!
If the quiz is not loading properly, click here
Follow us on Telegram