Rajasthan Royals contemplate changing base after 'harassment'
Franchise representatives expressed grief about the 'bad state' of the stadium in Jaipur.
Updated - Feb 2, 2020 1:02 pm
8K Views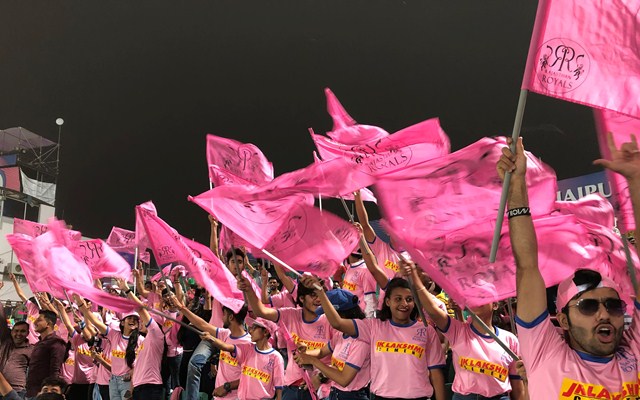 Follow us on Google News
Rajasthan Royals (RR), the IPL franchise, have been mulling shifting their base from Jaipur after the 'harassment' they have suffered of late. The Royals host their matches at the Sawai Mansingh Stadium and the constant travails have forced them to contemplate moving out to some other city. It's for the same reason why they wished the play a few games at the Barsapara Stadium in Guwahati.
But now it has landed them somewhat in deep waters. Previously, a Public Interest Litigation (PIL) was filed in the Rajasthan High Court for shifting of games from Jaipur to Guwahati. The request for the same is still pending though. However, a couple of days after on Saturday, February 1, top franchise officials talked about how the cricketing ecosystem in the state has been taking a toll on their business interests.
Royals losing money
"Be it the state's sports council, under whose aegis the Rajasthan Cricket Association (RCA) falls, the state machinery catering to law and order, the former officers of the RCA itself and political bigwigs in the state… they've all collectively given Rajasthan Royals nothing but trouble over the years. Plain harassment, that's what we've suffered," franchises officials told The Times of India (TOI).
As per the officials of the franchises "even a back-of-the-envelope math on their revenues in Jaipur will show how the franchise has been losing money". There have been demand for free tickets from the police and other authorities and that have forced the franchise into losses.
"Look at the stadium. It's in such a bad state. The newly-elected body in RCA has just come in and they'll need time even if they're looking to correct things. The place has been a mess for quite some time now. Over the years, the RCA has failed to come up with good infrastructure anywhere outside of Jaipur," franchise representatives mentioned.
Guwahati is expected to host two or three of their seven home matches for the Royals. Speaking about the venue, an official said that some of the leading players visited there and praised the venue. Rahul Kanwar, Vimal Chand Choudhary and Yogesh Kumar are the three petitioners, who approached the HC bench. The respondent asked for an adjournment to the hearing to file the reply.
Follow us on Telegram