Rajasthan Royals to host three-day open trials for budding women cricketers
Parent of a kid who got shortlisted for second round exclaimed her happiness.
Updated - Oct 12, 2018 2:05 pm
159 Views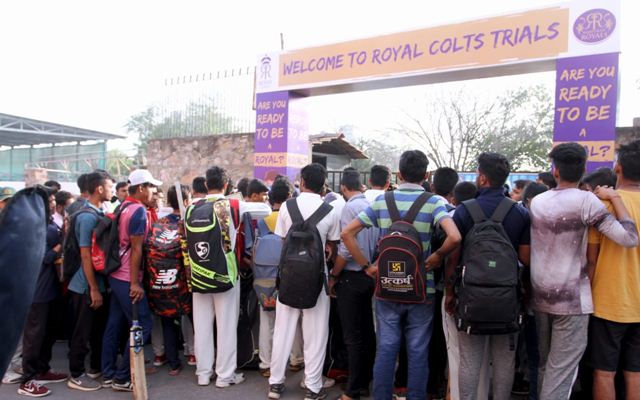 Follow us on Google News
Jaipur, Oct 11, 2018: The trials of the Rajasthan Royals' Royal Colts kickstarted at Neerja Modi School today. The day started at 07:30 am with kids in batch 1 lined up to wait for their chance patiently. The process started with verification of their age followed by division of candidates according to their specialisation.
Parent of a kid who got shortlisted for second round exclaimed her happiness, "Its a proud moment for me especially because being a single mother and raising my kid along with supporting his passion for cricket was difficult but I did whatever I could. I am very thankful to Royal Colts for giving him this opportunity. I hope he does well and makes it to the final selection. My blessings and support is always with him."
While the trials were on, what was more interesting to see were the girls standing and watching the trials from a distance who went upto Zubin Bharucha, Head of Cricket, Rajasthan Royals and asked if they could also give trials. That is when Bharucha instantly decided of opening these trials for the women cricket enthusiasts also.
"We wish to take some meaningful steps to be able to achieve our goal of developing cricketing talent in the country. At a time when competition for female sporting talent is growing in the country, I feel we are moving in the right direction by declaring Royal Colts trials now open to women candidates also."
October 13-15
The trials will be open from October 13-15 for the female candidates. The candidates who wish to give trials can come at Gate 6 of Neerja Modi School at 7:30 am on all three days from 13th to 15th of October.
Speaking of the trials at Day 1, former Indian off spinner, Rajesh Chauhan who judged the bowling talent said, "Its great to see the turn out of kids today for the trials. From the pool of talent that was put to test today,we are happy to see some exceptional bowlers whom we have shortlisted."
While there were kids who were accompanied by their parents and family members, some even came against the wish of their parents. On being asked about their decision to do so, there only answer was , "sir, jis din select ho jaayenge, mummy papa apne aap maan jaayenge."
Through the day, a pool of talent including batsmen, bowlers were put to test by our scouting panel. Day 2 of the trials will begin tomorrow, Oct 12 at 7:30 am at Neerja Modi School. All kids to report at Gate No 6.
Follow us on Telegram