Rajeev Shukla trolled for pointing out the religion of Indian players in appreciation tweet
Rajeev Shukla did a blunder by mentioning the wrong religion of all-rounder Washington Sundar. 
Updated - Jan 27, 2021 12:02 pm
76.4K Views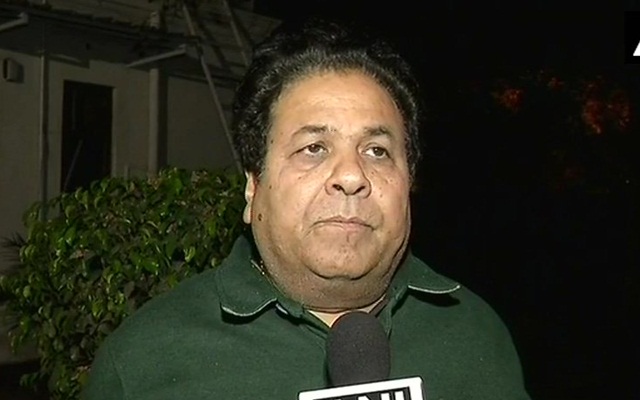 The Indian cricket team made the whole nation proud by winning the four-match Border Gavaskar Trophy against Australia by 2-1. It was an iconic victory for the visiting nation considering they were without the services of their skipper Virat Kohli and many players had succumbed to injury during the Test series.
The Men in Blue were lauded massively and the players received a lot of appreciation and praises from all over the world for their grit and determination. However, the vice-president of the Board of Control for Cricket in India (BCCI), Rajeev Shukla managed to spark controversy by linking the Indian players with their religions.
While wishing the Indian team for the historic win, the politician didn't fail to take a dig at the political parties for dividing the country between Hindu and Muslim. Rajeev posted a picture of India's pace sensation Mohammed Siraj hugging young wicketkeeper-batsman Rishabh Pant after the latter hit the winning shot in the second innings of the last Test against Australia at The Gabba in Brisbane.
Posting the picture, the vice-president highlighted the fact that Siraj is a Muslim while Pant practices Hindu religion. "Ek Hindu, dusra Muslim. fir bhi dono is baat se khush hai ki bharat jeet gya. Agar yhi baat desh ki janta ko samajh aa jae to kattar muslim or kattar hindu ke naam par chal rahi kuch partiyo ki Rajneeti hi samapat ho jae," Rajeev Shukla tweeted.
— Rajeev Shukla (@ShuklaRajiv) January 25, 2021
Rajeev Shukla makes a remark on the religion of Washington Sundar
The tweet quickly went viral on social media and it didn't go well with a lot of cricket fans as they slammed the politician for bringing religion into the fore. Many people also accused Shukla of satisfying his personal agenda by pointing at the religion of the cricket players.
Meanwhile, Rajeev Shukla didn't mind the hate and criticism he was receiving on social media for his controversial tweets as he again took to his official Twitter handle to make another remark about the players. However, this time he did a blunder by mentioning the wrong religion of all-rounder Washington Sundar.
The vice-president tweeted, "Rishabh-Hindu, Siraj-Muslim, Shubman Gill -Sikh, Washington Sundar-Christian. Contribution of all these cricketers made Team India a convincing victory."
Seeing the tweet by the office-bearer of the Indian board, a Twitter user criticised him for posting fake Whatsapp forwards and pointed out that Washington is a Hindu and not Christian.
"Washington Sundar is a Hindu, can't believe you are close to BCCI still posting WhatsApp forwards which are false," the user wrote
Washington sundar is a hindu, can't believe you are close to BCCI still posting whatsapp forwards which are false

— Saheb Abdullah (@sahebabdullah) January 25, 2021
Whatsaap uninstall karde sekularizm ke chodey.. Washington sundar is a hindu.

— Sir Chahal❁ kirket Expert (CA) (@Sirchahal) January 25, 2021
He is indian। Not hindu/muslim।

— Rahul (@HinduLiberel) January 25, 2021
Seems your Friend /Source was converted recently under Rice Bag Scheme 😂😂😂😂

"I am a Hindu and come from a very humble family. https://t.co/VxrdUU6KkJ

— नितिन चौहान 🇮🇳 (@nitingzb) January 25, 2021
हमारी राय ये है आपके मित्र ने आपको राहुल गांधी बनाया है। क्योंकि वासिंगटन सुंदर हिंदू है pic.twitter.com/3lmXUDadqP

— Mr Sinha (@MrSinha_) January 25, 2021
Washington sundar is a devoted hindu he does puja everyday .And in fact his dad dedicated his victory to Hindus all over the world 🤣🤣

— Karthick (@Karthic12345) January 25, 2021
Washington sundar Hindu Hai
Lmao 😂😂

— Poornima 😍❤ (@Sanghi_gurl) January 25, 2021
How come u were bcci head for this long without any knowledge of either cricket or players pic.twitter.com/sdEhFq2ngn

— Nitesh Bhadoria (@BhadoriaNitesh) January 25, 2021
Galat message hai.
And I don't think they were selected based on their religion, but talent. pic.twitter.com/jqTZGggWq4

— MessiFan (@MessiIndianFan) January 26, 2021
Mahoday ye WhatsApp wale tweet mein kr leta hu aap Dream11 pe jaake team bnaiye pic.twitter.com/bnLBNmhMKH

— Sir-Kid (@ooobhaishab) January 26, 2021