Interview with Mumbai Ranji Cricketer Saurabh Netravalkar
Updated - Oct 24, 2014 8:57 am
145 Views
Saurabh Netravalkar at first glimpse looks talk fit and steady, the attributes any fast bowler would love to have. So is he, a left-arm pacer for the Mumbai Ranji Trophy team Saurabh though yet to cement himself a spot in the team already grabs attention. His action resembles a lot with Zaheer Khan one of the best left-arm pacer's India has produced. Zak also happens to be one of the cricketers, he idolizes.
Currently playing Club cricket in Mumbai for the Payyade Sports Club an A division club in the Kanga League, Saurabh apart from being a professional also holds a Software Engineer's degree from a top college iin the Mumbai University. He has some how managed to strike a balance between academic excellence and his cricketing career.
Saurabh is among the probables declared by the Mumbai Cricket Association for the Ranji Cricket season 2014-15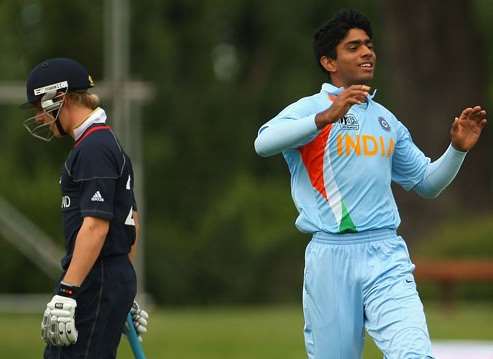 Follow us on Telegram
Ankit Mishra caught up with Saurabh Netravalkar at the Cross Maidan in Mumbai and spoke to him about his cricketing and non-cricketing life. Excerpts from the Interview
First up I would love to know how did cricket happen to you? Was it your love for the game or someone's influence that got you into cricket?
I used to play gully cricket and subsequently for my school team as well at U-14 level. Serious cricket for me began when my father read a newspaper article and took me to the ELF Vengsarkar Cricket Academy (which has produced some of the finest cricketers in Mumbai) at the Oval Maidan for an open selection trial of U-13 boys.
Our intention of going there was just to get a hang of where I stand. It was the first time I ever saw proper Nets and proper turf pitches with grass outfield (since in school, we used to play on the mat). I was super excited to see all this and just tried to enjoy every moment. To everyone's surprise I was selected for my fast bowling.
I trained at the academy 5 days a week in the later part of the day. This could be termed the point where my actual journey began. My school gave me special permission to leave half an hour early to head directly to practice. My mom or dad would accompany me to the club and used to sit for the entire 3 hours watching me play, encouraging me throughout. Also made sure I dedicated time for studies.
After a year of being on the bench for ELF club, I got selected in the team, performed well and got drafted into the U-15 Mumbai Team. I was passionate throughout, but being selected in the state team, made me realize that if I continue to work whole heartedly, I can make it Big.
When did you decide of becoming a left arm pacer?
As a child, I loved to watch great fast bowlers on TV and always tried to imitate them. Left arm fast bowlers had a special place somewhere deep inside and observing and replicating their actions got me into left arm pace bowling.
You are a cricketer and an engineer most can manage to achieve either sporting or academic success. What were the biggest challenges you faced while balancing both the acts?
After my SSC, I had to take a call whether I could manage Science along with my hectic cricketing schedule which was growing more hectic by the day or some other stream. But, I thought rather than take some other branch and do it just for the sake, why not take up science, do it whole heartedly and try and excel in both fields.
My parents gave me the freedom to decide, and fully supported me pursuing it. I am a firm believer of "Aiming to Excel and to strive to be the Best in whatever you do". So, on hearing about IIT JEE classes from my friends, I went along with them, gave the scholarship aptitude test. I earned a decent scholarship and decided to join the classes and started preps for JEE.
By far the most hectic year for me was standard 12. Dodging classes, clashing practices, matches with exams, college practical's as well as taking time for self studies. It was very heavy but I used to take it as a challenge.
All these activities made me a very good time and energy manager. I had developed a habit of prioritizing stuff depending on the immediate situation at hand and I knew how much effort and time I had to put in.
It was the same year in which I got selected for India U19 tour to Australia and I missed the JEE exam (blessing in disguise) since I was on tour. I appeared for the AIEEE without any preparations' the very next day. Then I had around 3 weeks for the CET. Since my concepts were strong due to JEE classes, I could prepare decently well for CET. I did well and got into Sardar Patel Institute of Technology, one of the best engineering colleges in Mumbai.
(I Faced lots of discouragement before Going for engineering, like "how will you manage" "It's too heavy a course" and all that. But I was firm since I knew I loved it and my parents supported me to chase my dreams.)
The first year of Engineering was the most difficult for me to manage. Since, during the 1st Semester, I had to go to New Zealand for the U-19 World Cup. I could appear for only 2 papers out of the 6 that we had. I covered it up in 2nd Semester appearing for 10 subjects at a stretch. In fact every odd Semester was a peak time of Cricket Season.
So, I used to literally play an inter-state match for 4 days followed by an Examination. I always had my laptop besides me even on tours, used to perform all practicals on it. For assignments, attendance, journals, practical's, I received immense support from my friends and even all professors of our department. Since I showed the willingness to learn and I used to make sure that I spent that extra time and understood all my concepts.
How supportive was your family when you said you wanted to continue with engineering and at the same time not compromise on your cricket career?
I feel blessed to have an extremely supportive family and without their sacrifices, I would have been nowhere near what I have achieved so far. My dad (who is also very passionate about the game) till date comes for each and every match that I play and watches all my matches for the entire day. The only restriction I had was that my studies shouldn't be affected. But personally, I used to enjoy studying and learning new things. So, I never let my studies be affected. In fact, the desire to play sharpened my studying skills.
A role model, who has been your inspiration?
I look up to Zaheer Khan and Wasim Akram for their mastery over different skills they possess and the ability to raise their game under pressure. Another cricketer who I idolize Glen McGrath I hope I can impart his discipline, attitude and accuracy into my bowling.
Tell us your regime, how do you keep yourself up and fit?
Our State team Trainer designs individualized training programs for us to cover all the aspects of fitness, so all we have to do is religiously follow it.
What are your immediate goals? The ultimate must be an India cap
To establish myself in the Mumbai Ranji Team across all 3 formats of the game. Play good cricket and ultimately become a part of the national team.
You have played Ranji cricket for Mumbai, but it is tougher now to find yourself a place, looking at other options this season?
No, I believe if you are good enough, you will find yourself a place in any team. And if you can't be the best in that field, you might as well switch to something else. So my goal is to work hard enough, develop and hone my skills and earn myself a place in the Mumbai Ranji team.
Follow us on Google News