Ranji Trophy 2017-18, Round 7 – Day 4 Review
Karnataka clinched a staggering 209-run victory over the Railways, riding on Mayank Agarwal's innings of 134 runs in their second innings.
Updated - Nov 28, 2017 6:46 pm
108 Views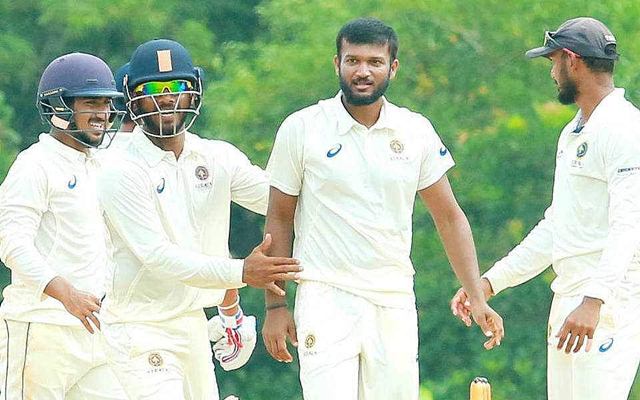 Follow us on Google News
The fourth day of the ongoing Ranji Trophy season was full of cricketing action as most matches produced a result while some ended in a draw. With Mumbai already having qualified into the quarter-finals on the third, the onus was on the other sides to force a result in their favour and gain a strong foothold in the proceedings. Several players produced stand-out performances to augment their team's effort towards winning the match.
Jharkhand, who'd had to face a humiliating follow-on after a below-average show with the bat in their first innings, failed to convert their overnight score into a mammoth total and could only add 77 runs to their total, before being bowled out owing to a splendid bowling spell from Hardik Patel.
Gujarat had to score merely 16 runs to seal the match and that too, by a 10-wicket margin. Madhya Pradesh came through in what was a must-win situation for them. Not only did they bowl out Odisha for a total of 350 but they also attained their target with 7 wickets in hand to win in panache.
Unlike Jharkhand, Hyderabad were not bogged down by having to follow-on the mammoth total constructed by Delhi and fared well in their second innings where they declared at a total of 442 to draw the match; a figure achieved due to the joint effort put in by batsmen Akshath Reddy (107) and Rohit Rayudu (103).
Karnataka clinched a staggering 209 run- victory over the Railways riding on Mayank Agarwal's innings of 134 runs in their second innings. In reply to Karnataka's declaration, Railways could muster a paltry 167 run-total as their entire batting order was demolished by Krishnappa Gowtham, who scalped 7 wickets for 72 runs.
Rajasthan put on a gallant display of batting to tip the scales in their favour. From being in an abysmal state, they went on to register 394 runs on the board for the loss of 7 wickets and managed to draw the match against Saurashtra.
Haryana's fate had been sealed from the third day on and the events unfolded just as they had been foreseen to do. Trailing by 98 runs, Haryana succumbed to the quality bowling attack of Kerala, comprising Jalaj Saxena, Basil Thampi and MD Nidheesh as Kerala went on to record a victory by an innings and 8 runs.
Punjab would rue missing out on a victory as Services showcased nerves of steel and hung on to the crease to put up 458 runs on the board before being bowled out. In reply, Punjab could only score 94-5, leading the match to an inevitable draw.
As expected, the match between Vidarbha and Himachal Pradesh stretched out to a draw with the latter declaring their inning on 323-8. Vidarbha's Faiz Fazal attracted quite a few eyeballs owing to his stellar double ton in his side's first innings.
Bengal and Goa had to settle for a draw as both sides put up good performances with the bat. Notable 300+ scores were reached in three out of the four innings played, with Bengal's Anustup Majumdar scoring centuries in both innings for his side. Tamil Nadu couldn't offer much resistance to Baroda's bowling as they went from their overnight second innings score of 2/0 to being bowled out for just 130 runs, leading Baroda to a 102-run victory.
Brief Scores
Group A
Hyderabad v Delhi
Delhi 415/10 ( H Singh 99, K Chandela 64; R Kiran 3/83)
Hyderabad 205/10 (T Agarwal 63; K Khejroliya 4/48) & 442/8 d (A Reddy 107; R Rayudu 103; V Misra 5/116)
Result Match drawn
---
Railways v Karnataka
Karnataka 434/10 (M Agarwal 173, M Pandey 108; K Thakur 3/91) & 275/4 d (M Agarwal 134; K Thakur  2/68)
Railways 333/10 ( A Ghosh 91, M Rawat 124; S Gopal 4/102) & 167/10 (P Singh 36, K Gowtham 7/72)
Result Karnataka won by 209 runs
---
Group B
Haryana v Kerala
Haryana 208/10 (R Paliwal 46; S Warrier 4/50) & 173 (A Mishra 32*; J Saxena 3/37; M Nidheesh 3/27)
Kerala 389/3 (J Saxena 91, R Prem 93; A Chahal 5/90)
Result Kerala won by an innings and 8 runs
---
Rajasthan v Saurashtra
Saurashtra 534/10 ( Avi Barot 130, S Jackson 94)
Rajasthan 275/10 (R Bist 63; D Jadeja 3/42) & 394/7 ( C D Bist 109; R Bishnoi 103; D Jadeja 5/ 167)
Result Match drawn
---
Jharkhand v Gujarat
Gujarat 411/10 (R Bhatt 145*; A Kumar 4/118) & 16-0 (Panchal 12*)
Jharkhand 242/10 (K Deobrat 80, N Siddiqui 71) & 183/10 (K Deobrat 53; H Patel 4/9)
Result Gujarat won by 10 wickets
---
Group C
Madhya Pradesh v Odisha
Odisha 147/10 ( S Mishra 60; C Sakure 4/42) & 350/10 (S Senapati 125, M Hirwani 5/97)
Madhya Pradesh 388/10 ( R Patidar 123; G Poddar 7/102) and 111-3 (D Bundela 50*; D Behera 2/31)
Result Madhya Pradesh won by 7 wickets
---
Tamil Nadu v Baroda
Baroda 309/10 (S Singh 144; K Vignesh 3/52) & 197/10 (S Singh 49; M Mohammed 3/22)
Tamil Nadu 274/10 (B Indrajith 58, B Aparajith 59; L Meriwala 3/37) & 130 (Aparajith 60; S Singh 4/21)
Result Baroda won by 102 runs
---
Group D
Punjab v Services
Punjab 645/6 d(A Singh 252*, S Gill 129) & 94-5 ()
Services 315/10 (V Yadav 71, D Pathania 68; M Gony 5/63) & 458 (G Rahul Singh 124; R Chauhan 112; S Kaul 3/96)
Result Match drawn
---
Vidarbha v Himachal Pradesh
Himachal Pradesh 353/10 ( A Vasisht 69, S Verma 66; R Gurbani 6/113) & 323-8 d (N Gangta 101*; A Sarwate 6/75)
Vidarbha 456/10 ( F Fazal 206, S Ramaswamy 115; R Dhawan 4/96)
Result Match drawn
---
Bengal v Goa
Bengal 379/10 (S Goswami 139, A Majumdar 119; L Garg 4/89) & 334-5 d (A Majumdar 108*; W Chatterjee 102*)
Goa 310/10 ( A Desai 103*; A Dinda 5/79) & 86-2 (S Kauthankar 53; A Dinda 2/13)
Result  Match drawn
Follow us on Telegram