Ranji Trophy 2017/18, 2nd Round – Day 4 Review
Mohammad Shami returned with figures of 6/61 and was supported brilliantly by Ashok Dinda, who picked up 10 wickets in the game.
Updated - Oct 17, 2017 7:12 pm
2.6K Views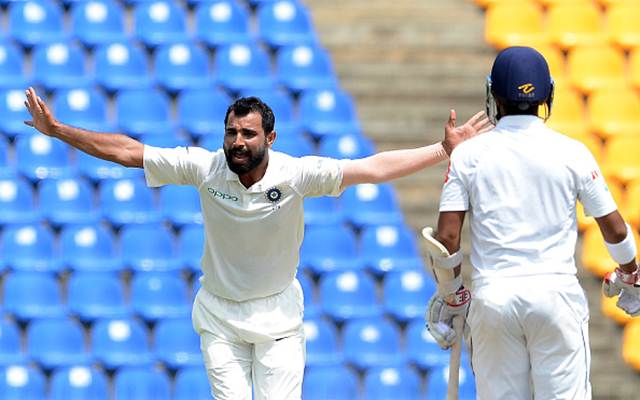 There was no dearth of drama on the final day of the second round of the Ranji Trophy 2017/18 as a total of 5 teams registered bonus points in their games. Whilst Saurashtra and Vidarbha could take a breather as their games were done and dusted in 3 days, Delhi, Karnataka, and Bengal registered 7 points each in their kitty.
Manoj Tiwary's Bengal needed just 5 wickets to complete an innings victory and they had over 190 runs to trade with. It didn't take much time for his bowlers to show their counterparts the backdoor. Mohammad Shami returned with figures of 6/61 and was supported brilliantly by Ashok Dinda, who picked up 10 wickets in the game. Chattisgarh was bowled out for 259 and Bengal won by an innings and 160 runs.
A magnificent rendition from Goa averted a well-deserved victory for Himachal Pradesh. After the follow-on was enforced, Sumiran Amonkar and Swapnil Asnodkar registered massive centuries and registered a 299-run opening partnership. This pretty much settled the deal and after both of them got out, skipper Sagun Kamat ensured they finished at 426/2 in 111 overs. The match finished in a draw and Himachal received three points.
Defending champions Gujarat were made to work hard in their game as their run chase didn't propel smoothly. Chasing 108, they lost six wickets on their way and Kerala bowlers almost denied them a simple win. Nevertheless, it was a much-needed win for the champions.
Hyderabad's misery continues
What can be said about Hyderabad's horribly unfortunate run this season? Monday marked the completion of 2 rounds of the tournament and their skipper Ambati Rayudu hasn't taken the field yet even for the coin toss. The match was called off without a ball being bowled courtesy wet outfield. Weather conditions have been incredibly cruel in the city of Pearls and they'll have to get their campaign kick-started immediately.
Hot favorites Mumbai gained three crucial points in their clash against Madhya Pradesh. The game was a tug-of-war between two equally strong sides, but with experience on their side, Mumbai somehow sneaked past their counterparts. After securing a slender 31-run lead in the first innings, Madhya Pradesh had no time left to turn the tables around.
An outstanding all-round performance from Krishnappa Gowtham saw Karnataka beat Assam by an innings and 121 runs. It was one-way traffic all the way and it came as no surprise to be fair. Krishnappa Gowtham registered figures of 7/59 in the match and backed it up with a breathtaking hundred. Assam got bowled out for 203 on the final day to round-off a huge win for the hosts.
Brief Scores
Bengal v Chattisgarh (Bengal won by an innings and 160 runs)
Bengal first innings: 529/7 declared in 147.3 overs
Chattisgarh first innings: 110 all out in 29.5 overs (Ashok Dinda 7/21)
Chattisgarh second innings (F/O): 259 all out in 81.4 overs (Abhimanyu Chauhan 115; Mohammad Shami 6/61)
Points: Chattisgarh – 0, Bengal – 7
Himachal Pradesh v Goa (Match drawn)
Goa first innings: 255 all out in 85.5 overs
Himachal Pradesh first innings: 625/7 declared in 144 overs
Goa second innings: 426/2 in 111 overs (Sumiran Amonkar 137, Swapnil Asnodkar 167)
Points: Himachal Pradesh – 3, Goa – 1
Tamil Nadu v Tripura (Match drawn)
Tripura first innings: 258 all out in 96.1 overs
Tamil Nadu first innings: 357/4 declared in 88 overs (Washington Sundar 159)
Tripura second innings: 91/3 in 34 overs
Points: Tamil Nadu -3, Tripura – 1
Mumbai v Madhya Pradesh (Match drawn)
Madhya Pradesh first innings: 409 all out in 144.3 overs
Mumbai first innings: 440 all out in 141.4 overs (Jay Gokul Bista 135, Suryakumar Yadav 91)
Madhya Pradesh second innings: 145/6 in 59 overs
Points: Mumbai – 3, MP – 1
Baroda v Andhra (Match drawn)
Baroda first innings: 373 all out in 128 overs
Andhra first innings: 554 all out in 149.5 overs (Hanuma Vihari 150, Ricky Bhui 145)
Baroda second innings: 195/6 in 71.4 overs
Points: Andhra – 3, Baroda – 1
Gujarat v Kerala (Gujarat won by 4 wickets)
Kerala first innings: 208 all out in 66.5 0vers
Gujarat first innings: 307 all out in 106.3 overs
Kerala second innings: 203 all out in 76.3 overs
Gujarat second innings: 108/6 in 42.3 overs
Points: Gujarat – 6, Kerala – 0
Rajasthan v Jharkhand (Match drawn)
Rajasthan first innings: 423 all out in 141.5 overs
Jharkhand first innings: 265 all out in 97.4 overs
Jharkhand second innings: 332/6 in 104 overs (Nazim Siddiqui 100, Ishank Jaggi 103)
Points: Rajasthan – 3, Jharkhand – 1
Karnataka v Assam (Karnataka won by an innings and 121 runs)
Assam first innings: 145 all out in 59.1 overs
Karnataka first innings: 469/7 declared in 126.4 overs (Krishnappa Gowtham 149, Samarth Ravikumar 123)
Assam second innings: 203 all out in 73.1 overs (Vinay Kumar 4/31, Krishnappa Gowtham 3/39)
Points: Karnataka – 7, Assam – 0
Railways v Delhi (Delhi won by an innings and 105 runs)
Delhi first innings: 447 all out in 144.5 overs
Railways first innings: 136 all out in 59.4 overs
Railways second innings (F/O): 206 all out in 78.5 overs (Nitin Bhille 73; Vikas Mishra 4/37)
Points: Delhi – 7, Railways – 0