Ranji Trophy 2018-19: Best XI of the tournament
A lot of class players missed out as it's always tough to pick the best XI from a whopping 37 teams.
Updated - Feb 7, 2019 9:23 pm
5.6K Views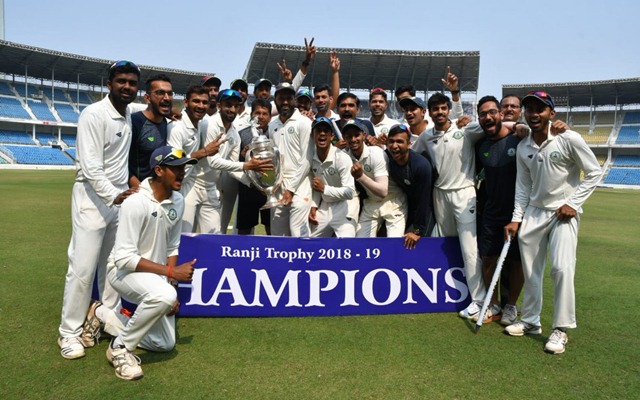 Yet another Ranji Trophy season, full of gritty fights, some exceptional performances and a roller coaster of emotions has come to a conclusion. It was the Vidarbha team, which got through all of these factors, sustained the improbable situations to emerge victoriously. The team defended the title and it was a complete team effort that made this possible.
While the winners are the grinners, there were also some other top-notch accomplishments from the players of the other teams as well. Even though they could not take their team to the finishing line, these cricketers did everything they could possibly do in the season. The competition in the domestic tournament is getting extreme.
Gone are the old days where scoring a mere century or taking a five-wicket haul would place you in the headlines. The cricketers are churning out performances that one wouldn't have even thought of a few years ago. Hence, picking the best eleven from over 37 teams that have taken part in the tournament isn't easy. A few tough calls had to be made keeping the stats, oppositions and impact created in mind.
Here is the best XI of the Ranji Trophy 2018-19:
1. Shubman Gill | Punjab
You wouldn't find Shubman Gill amongst the highest run-scorers. But, in whatever opportunities that he got, the youngster capitalised on it and even earned a maiden India call-up. Gill just played in five matches this season and had a chance to bat in 9 innings. He scored 728 runs at a staggering average of 104. He crossed 50 in six of out those nine innings and registered a century twice. His average is right there up in the top five among the players who played more than 3 games.
2. Abhimanyu Easwaran | Bengal
The Bengal opener was another top performer in this Ranji Trophy season. Abhimanyu Easwaran played 6 games and batted in 11 innings. He smashed 3 centuries and 3 half-centuries and was one of the most consistent performers. The 23-year-old scored 861 runs including the highest score of 201*. Since he averaged about 96 in the season, he ends finding an edge over some of the other players who scored more runs than him.
3. Wasim Jaffer (c) | Vidarbha
The domestic cricket legend was a part of the Ranji Trophy yet again, for the 10th time in his career. Wasim Jaffer played a massive part in Vidarbha's success and was the leading run-scorer for his team. He is the only player to score more than 1,000 runs in the tournament twice. With 1,037 runs in 15 innings at an average of 69.13, Jaffer is only getting better with age. He will also lead this side.
4. Milind Kumar | Sikkim
A player from the plate group topping the batting charts is indeed superb. The Delhi cricketer represented the Sikkim team and was brilliant. In 8 games (14 innings), Milind scored 1,331 runs at an average of 121 and even more unbelievable strike rate of 92. He smashed six centuries and four half-centuries in the season including the highest score of 261.
5. Rinku Singh | Uttar Pradesh
Rinku Singh is coming of age and was terrific this season. After a poor IPL season last year, he came back mighty strong in the Ranji Trophy. The left-hander scored 953 runs in 13 innings at an average of 105 and a strike rate of 73. He recorded four centuries and three half-centuries. The youngster would be hoping of having a good IPL 2019 so that he could possibly make it to the Indian team soon.
6. Puneet Bisht (wk) | Meghalaya
The 32-year-old is another Delhi batsman who represented Meghalaya this season. With 892 runs at an average of 89 in 12 innings, he was one of the best wicket-keepers in the tournament. Bisht also hit two centuries in the tournament and is the only player to register a triple century (343) this season. He will don the gloves in this eleven.
7. Abrar Kazi | Nagaland
Abrar Kazi is easily the best all-rounders in this edition of the Ranji Trophy. He was great with the ball and even better with the willow in hand. The former RCB player scored 814 runs in 14 innings at an average of 74. Apart from three centuries and three half-centuries, he also smashed a double ton. With the red cherry, he picked up 34 wickets in 11 innings at an average of 15 including three five-wicket hauls.
8. Jalaj Saxena | Kerala
Jalaj Saxena is another all-rounder who had a highly successful season this year. Representing Kerala, he piled up 551 runs in 16 innings at an average close to 40. While he opened in a few games, he mostly batted either in the middle-order or lower-order. Saxena registered two centuries and picked up 28 wickets in 14 innings. He even accounted for an 8-wicket haul in an innings.
9. Aditya Sarwate | Vidarbha
Aditya Sarwate had a very important role to play in Vidarbha's triumph. The all-rounder was great in the final and a win would have been extremely tough without him in the side. He is predominantly a bowler and can add some handy runs with the bat. Aditya was the third highest wicket-taker and had a total of 55 victims to his name. He averaged just under 20 in the 19 innings where he bowled.
10. Ashutosh Aman | Bihar
Ashutosh Aman, who is a batting all-rounder as per the records, was exceptional with the ball. He was the leading wicket-taker of the season with 68 scalps in just 8 matches. The slow left-arm bowler bowled lesser overs than anyone else who picked up more than 45 wickets in the season. You might have to pinch yourself to believe the fact that his average and strike rate in the season were just 6.48 and 20.40 respectively.
11. Dharmendrasinh Jadeja | Saurashtra
Dharmendrasinh Jadeja is the workhorse in the Saurashtra side. He is a complete team man and is always ready to bowl as many overs as the captain asks him to bowl. Jadeja had an important role in getting his team through till the final and is capable of hitting a few lusty blows with the bat as well. He is the only bowler to have bowled in excess of 500 overs in this season of the Ranji Trophy. The pacer picked up 59 wickets in 19 innings and was the second highest wicket-taker.