Ranji Trophy 2018-19, Round 1, Day 1: Round up
The best performance of the day came from the willow of Sikkim's Milind Kumar.
Updated - Nov 1, 2018 6:09 pm
253 Views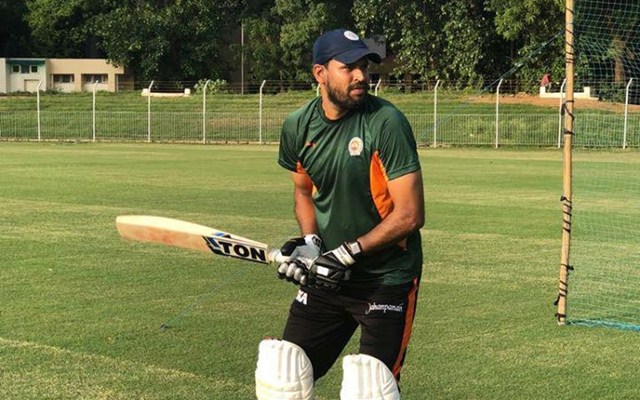 The 85th edition of the Ranji Trophy kicked off with 17 games across the country on Day 1 of Round 1. The day witnessed some good competitive first-class cricket. The focus of all the sides was to put up a good total on the board in the first innings. However, a few teams bowled the opposition out in no time and even gained a sizeable lead.
The best performance of the day came from the willow of Sikkim's Milind Kumar. He has beaten all the odds, absorbed the pressure and brought out one of the finest Ranji innings. Sikkim, after being put into bat first, was down to 15/5 within no time. Being bowled out for a low score looked inevitable. However, Kumar smashed an unbeaten 202 in just 248 balls as the team ended the day with a score of 299/9.
Cheteshwar Pujara hurt himself while playing for Saurashtra against Gujarat, he had to retire hurt with a sore neck. The Indian Test number three batsman walked back to the pavilion after he scored 30 runs. Madhya Pradesh's Rajat Patidar, Odisha's Anurag Sarangi, Rajasthan's Chetan Bist and Tripura's Bishal Ghosh were the other players who notched up their centuries on day 1. For Baroda, Yusuf Pathan played a fiery knock of 69 faster than run-a-ball to power his team close to the 300-run mark.
The Plate group teams didn't perform as strongly as the other sides. Most of those matches are already into the second innings of the game and it won't be too long before the third commences either. There were also some exceptional bowling performances on display. 6/13 from Uttarakhand's Deepak Dhapola is the most notable of them all.
Brief Scores – Day 1, Round 1
Group A
Baroda vs Gujarat
Baroda, 1st Innings: 290/10 in 81.2 overs (Yusuf Pathan 69, Siddarth Desai 5/109)
Gujarat, 1st Innings: 15/0 in 4 overs (Samit Gohel 8*)
Maharastra vs Vidarbha
Maharastra, 1st innings: 284/6 in 90 overs (C Khurana 89, Akshay Wakhare 2/47)
Railways vs Mumbai
Mumbai, 1st innings: 278/5 in 80 overs (Suryakumar Yadav 83, Anureet Singh 3/55)
Saurashtra vs Chattisgarh
Saurashtra, 1st innings: 282/3 in 90 overs (Snell Patel 91, Sumit Ruikar 1/76)
Group B
Andhra vs Punjab
Punjab, 1st innings: 261/6 in 90 overs (Mandeep Singh 68, Bandaru Ayyappa 3/64)
Himachal Pradesh vs Bengal
Bengal, 1st innings: 266/6 in 90 overs (Manoj Tiwary 55, Rishi Dhawan 2/34)
Kerala vs Hyderabad
Kerala, 1st innings: 231/4 in 85 overs (Sachin Baby 57*, Mehdi Hasan 2/67)
Tamil Nadu vs Madhya Pradesh
Madhya Pradesh, 1st innings: 214/3 in 89 overs (Rajat Patidar 110*, Vijay Shankar 1/27)
Group C
Jharkhand vs Assam
Jharkhand, 1st innings: 266/6 in 80 overs (Nazim Siddiqui 72, Ranjit Mali 2/60)
Odisha vs Haryana
Odisha, 1st innings: 232/6 in 90 overs (Anurag Sarangi 114, Harshal Patel 2/58)
Rajasthan vs Jammu & Kashmir
Rajasthan, 1st innings: 300/3 in 90 overs (Chetan Bist 146*, Umar Nazir Mir 2/74)
Tripura vs Services
Tripura, 1st innings: 268/7 in 90 overs (Bishal Ghosh 151*, Sachidanand Pandey 3/77)
Uttar Pradesh vs Goa
Goa, 1st innings: 152/10 in 35.4 overs (Darshan Misal 43, Shivam Mavi 4/25)
Uttar Pradesh, 1st innings: 153/1 in 49 overs (Madhav Kaushik 83*, Lakshay Garg 1/40)
Plate Group
Manipur vs Sikkim
Sikkim, 1st innings: 299/9 in 90 overs (Milind Kumar 202*, Shelley Shaurya 4/39)
Meghalaya vs Arunachal Pradesh
Arunachal Pradesh, 1st innings: 166/10 in 64.3 overs (Samarth Seth 50, Gurinder Singh 5/50)
Meghalaya, 1st innings: 87/6 in 23 overs (Jason Lamare 42*, Licha Tehi 3/18)
Nagaland vs Mizoram
Mizoram, 1st innings: 106/10 in 47.2 overs (T Kohli 49, A Kazi 4/16)
Nagaland, 1st innings: 189/4 in 40 overs (Jonathan R 70, Akhil Rajput 2/17)
Uttarakhand vs Bihar
Bihar, 1st innings: 60/10 in22.1 overs (Vivek Mohan 13, Deepak Dhapola 6/13)
Uttarakhand, 1st innings: 201/7 in 65 overs (Karri Veer Kaushal 91, Samar Quadri 3/68)