Ranji Trophy 2018-19, Round 1, Day 3: Round up
Tripura's Manisankar Murasingh registered figures of 7/53 against the Services.
Updated - Nov 3, 2018 7:27 pm
527 Views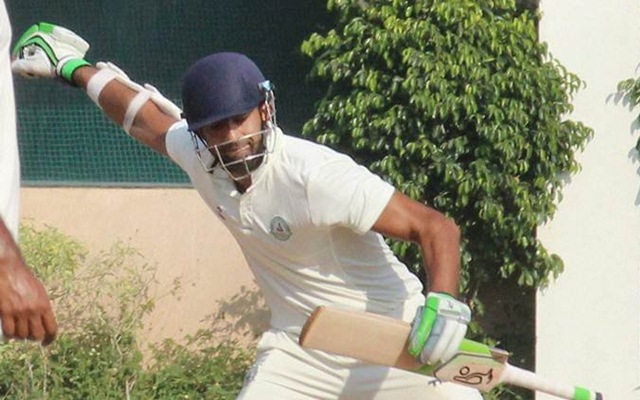 Left-arm pacer Jayadev Unadkat seemed to have struck the chord just at the right time. In the match against Chattisgarh, he picked seven wickets out of the eight that fell so far. On a day that was more or less dominated by the bowlers, Tripura's Manisankar Murasingh registered figures of 7/53 against Services. Also, Mumbai's Tushar Deshpande accounted for a 6-wicket haul.
Abrar Kazi of Nagaland, who picked up a 4-wicket haul and scored an unbeaten double century on the first two days, followed it up by bagging 5 wickets as his team won by an innings and 333 runs against Mizoram. While one Plate group match yielded a result on day 2 itself, the other three did the same on day 3 of the Ranji Trophy 2018-19.
Faiz Fazal, Ricky Bhui and Yashpal Singh were the batsmen who registered centuries today. Bhui was unbeaten on 150 at the close of play on day 3 which helped Andhra recover brilliantly. The team, after being down to 54/3 is now 327/5 and trails Punjab's score by just 87 runs.
However, Akshdeep Nath, after having played so well, unfortunately, missed out on a double century. The strategy of all the teams from Group A, B, C is clearly trying to force a result as it appears at the moment. The South Indian derby was affected by rain. The match between Kerala and Hyderabad only witnessed 20 overs of play. Things only got worse as there wasn't even a ball bowled on the day in the game between Tamil Nadu and Madhya Pradesh.
Brief Scores – Day 2, Round 1
Group A
Baroda vs Gujarat
Baroda, 1st innings: 290/10 in 81.2 overs (Yusuf Pathan 69, Siddarth Desai 5/109)
Gujarat, 1st innings: 302/10 in 102.1 overs (Rujul Bhatt 76, Atit Sheth 3/53)
Baroda, 2nd innings: 161/7 in 65 overs (Pinal Shah 71, Rush Kalaria 4/29)
Maharastra vs Vidarbha
Maharastra, 1st innings: 343/10 in 105.5 overs (C Khurana 89, Lalit M Yadav 3/84)
Vidarbha, 1st innings: 120/10 in 44.5 overs (Wasim Jaffer 27, SS Bachhav 3/3)
Vidarbha, 2nd innings: 287/3 in 100 overs (Faiz Fazal 116*, Samad Fallah 1/47)
Railways vs Mumbai
Mumbai, 1st innings: 411/10 in 115.2 overs (Shivam Dubey 114, Harsh Tyagi 4/83)
Railways, 1st innings: 307/10 in 104.2 overs (A Ghosh 71, Tushar Deshpande 6/70)
Mumbai, 2nd innings: 57/2 in 25 overs (Herwadkar 24*, Harsh Tyagi 1/7)
Saurashtra vs Chattisgarh
Saurashtra, 1st innings: 475/10 in 142.2 overs (Sheldon Jackson 147, Shahnawaz 4/97)
Chattisgarh, 1st innings: 315/8 in 114 overs (Harpreet Singh 60, Jayadev Unadkat 7/66)
Group B
Andhra vs Punjab
Punjab, 1st innings: 414/10 in 156.2 overs (Sanvir Singh 110, Bandaru Ayyappa 3/78)
Andhra, 1st innings: 327/5 in 26 overs (Ricky Bhui 150*, Mayank Markande 3/96)
Himachal Pradesh vs Bengal
Bengal, 1st innings: 380/10 in 116.1 overs (Manoj Tiwary 55, P Jaiswal 5/81)
Himachal Pradesh, 1st innings: 302/9 in 107 overs (Ankush Bains 86, Pradipta Pramanik 4/54)
Kerala vs Hyderabad
Kerala, 1st innings: 495/6 d in 164 overs (Sachin Baby 147, Saaketh Sairam 3/110)
Hyderabad, 1st innings: 30/1 in 21 overs (Tanmay Agarwal 24*, Sandeep Warrier 1/10)
Tamil Nadu vs Madhya Pradesh
Madhya Pradesh, 1st innings: 393/10 in 157.4 overs (Rajat Patidar 196, Ravichandran Ashwin 4/85)
Tamil Nadu, 1st innings: 0/0 in 2 overs
Group C
Jharkhand vs Assam
Jharkhand, 1st innings: 344/10 in 112.1 overs (Anukul Roy 80, Mukhtar Hussain 5/77)
Assam, 1st innings: 298/10 in 105.2 overs (G Sharma 92, Ashish Kumar 5/69)
Jharkhand, 2nd innings: 44/1 in 14 overs (Ishan Kishan 31*, Arup Das 1/24)
Odisha vs Haryana
Odisha, 1st innings: 324/10 in 112.2 overs (Anurag Sarangi 114, Tinu Kundu 4/51)
Haryana, 1st innings: 442/10 in 128.3 overs (H Rana 164, Debabrata Pradhan 3/96)
Odisha, 2nd innings: 50/1 in 24 overs (G Poddar 22*, Jayant Yadav 1/9)
Rajasthan vs Jammu & Kashmir
Rajasthan, 1st innings: 379/10 in 109.4 overs (Chetan Bist 159, M Mudhasir 5/90)
Jammu & Kashmir, 1st innings: 204/10 in 71.1 overs (Parvez Rasool 47, Rahul Chahar 5/59)
Rajasthan, 2nd innings: 219/4 d in 63 overs (Amitkumar Gautam 68, Parvez Rasool 2/50)
Jammu & Kashmir, 2nd innings: 34/0 in 12 overs (Shubham Khajuria 21*)
Tripura vs Services
Tripura, 1st innings: 360/10 in 122.3 overs (Bishal Ghosh 201, Diwesh Pathania 4/79)
Services, 1st innings: 238/10 in 85 overs (A Gupta 62, Manisankar Murasingh 7/53)
Tripura, 2nd innings: 110/0 in 40 overs (Udiyan Bose 64*)
Uttar Pradesh vs Goa
Goa, 1st innings: 152/10 in 35.4 overs (Darshan Misal 43, Shivam Mavi 4/25)
Uttar Pradesh, 1st innings: 564/4 d in 161 overs (Akshdeep Nath 194, Lakshay Garg 2/109)
Goa, 2nd innings: 123/8 in 66 overs (Snehal Kauthankar 28, Saurabh Kumar 4/31)
Plate Group
Manipur vs Sikkim
Sikkim, 1st innings: 372/10 in 111.2 overs (Milind Kumar 261, Shelley Shaurya 4/39)
Manipur, 1st innings: 79/10 in 28 overs (Priyojit K Singh 30, Ishwar Chaudhary 4/37)
Manipur, 2nd innings: 266/10 f in 80.2 overs (Yashpal Singh 132*, Bipul Sharma 4/55)
Result: Sikkim won by an innings and 27 runs
Meghalaya vs Arunachal Pradesh
Arunachal Pradesh, 1st innings: 166/10 in 64.3 overs (Samarth Seth 50, Gurinder Singh 5/50)
Meghalaya, 1st innings: 141/10 in 40 overs (Jason Lamare 70, Licha Tehi 3/31)
Arunachal Pradesh, 2nd innings: 131/10 in 55.1 overs (Kshitiz Sharma 41, Gurinder Singh 4/21)
Meghalaya, 2nd innings: 157/3 in 32 overs (Puneet Bisht 66*, Licha Tehi 2/30)
Result: Meghalaya won by 7 wickets
Nagaland vs Mizoram
Mizoram, 1st innings: 106/10 in 47.2 overs (T Kohli 49, A Kazi 4/16)
Nagaland, 1st innings: 530/8 d in 117.2 overs (A Kazi 200*, Moia 3/90)
Mizoram, 2nd innings: 91/10 in 41.4 overs (T Kohli 48*, A Kazi 5/13)
Result: Nagaland won by an innings and 333 runs
Uttarakhand vs Bihar
Bihar, 1st innings: 60/10 in22.1 overs (Vivek Mohan 13, Deepak Dhapola 6/13)
Uttarakhand, 1st innings: 227/10 in 71.3 overs (Karn Veer Kaushal 91, Ashutosh Aman 4/34)
Bihar, 2nd innings: 169/10 in 50.5 overs (S Quadri 36, Sunny Kashyap 4/51)
Uttarakhand, 2nd innings: 4/0 in 0.1 overs (Karn Veer Kaushal 4*)
Result: Uttarakhand won by 10 wickets