Ravi Ashwin justifies his attack on Gibbs and also why he pulled it down
It seemed that Ashwin wasn't pleased with Gibbs over his comment.
Updated - Feb 19, 2018 5:11 pm
670 Views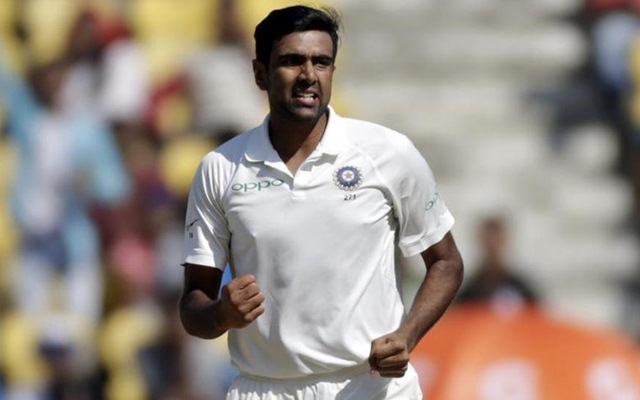 The premier off-spinner of India Ravi Ashwin was recently involved in a hilarious banter with Herschelle Gibbs. He accused the former South African cricketer of fixing when he had taken a sly dig at him over his fitness on the microblogging website Twitter. However, Ashwin soon understood that he did a huge blunder with the fixing claims and deleted the tweet only to come up with a new message for his haters.
The Indian spinner is currently enjoying a break from cricket after featuring in the three-match Test series against South Africa recently. He has lost his place in the ODI side as his poor form coupled with the huge success of the wrist-spinning duo of Yuzvendra Chahal and Kuldeep Yadav. Now he is trying to add a leg-spinning delivery to his armoury in order to make himself a lethal bowler in the limited overs format once again.
Ashwin's hilarious tweet
It all started when R Ashwin endorsed a product of NIKE about the new running shoes on his official Twitter handle. His tweet read, "Hey Guys! Just got my hands on the new NIKE React. It's got a stunning design and the foam technology used makes it light and comfortable to use. Undoubtedly, the best running shoes I've stepped into, can't wait to flaunt them. #NikeReact #InstantGo #teamNike." Gibbs, however, replied to his tweet taking a dig on his slow running saying, "Hopefully you will be able to run a bit faster now ashwin."
It seemed that Ashwin wasn't pleased with Gibbs over his comment and straightaway recalled the match-fixing claims over him from nowhere. Though he was accused in the matter, the South African was never found guilty in the same. However, Ashwin soon realised his mistake and deleted his tweet. He also cleared to Gibbs that according to him it was a joke and he was totally game for this sort of fun.
Also, he came up with a 'sensitive' tweet and cleared the reason of pulling down his tweet after some time.
Here's the thread of the convo:
Hey Guys! Just got my hands on the new NIKE React. It's got a stunning design and the foam technology used makes it light and comfortable to use. Undoubtedly, the best running shoes I've stepped into, can't wait to flaunt them.
#NikeReact #InstantGo #teamNike pic.twitter.com/SmspLkw2dA

— Ashwin Ravichandran (@ashwinravi99) February 19, 2018
Hopefully you will be able to run a bit faster now ashwin ?

— Herschelle Gibbs (@hershybru) February 19, 2018
This is what Ashwin replied:
Can't take a joke i see? anyway moving swiftly on..

— Herschelle Gibbs (@hershybru) February 19, 2018
I totally believed my reply was a joke too, but look how people and yourself perceived it. I am totally game for this sort of fun mate, we shall dine over this sometime.? https://t.co/Z7YdXQnxeD

— Ashwin Ravichandran (@ashwinravi99) February 19, 2018
This is what Ashwin tweeted to clear the air:
What's sensitive to me isn't to someone else, and what's sensitive to you isn't to me. I want to respect my family of fans and hence pulled the tweet down, and now entertainment over for all my haters. See you later?

— Ashwin Ravichandran (@ashwinravi99) February 19, 2018