Reports: Sourav Ganguly to replace Anil Kumble as ICC Technical Committee chairman
Ganguly, reportedly, is likely to be promoted from an observer to the chairman in the committee.
Updated - Nov 17, 2021 10:20 am
1.7K Views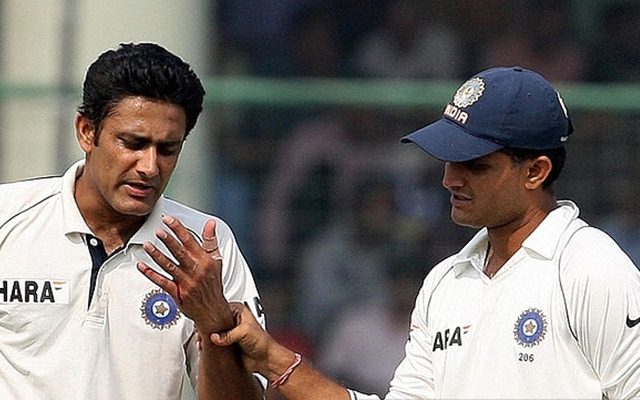 Follow us on Google News
If reports are to be believed, Sourav Ganguly, the president of the Board of Control for Cricket in India, is set to replace Anil Kumble as the chairman of the International Cricket Council's Technical Committee. Back in 2012, Kumble was appointed by the game's governing body, replacing West Indies' legend Clive Lloyd. Then in 2016, Kumble was re-elected for a second term.
Then in March 2019, he was reappointed for a third and final three-year term as the ICC's technical committee chairman. After nine years in the role, he's likely to make way for Ganguly, who, reportedly, is likely to be promoted from an observer to the chairman. The ICC technical committee is tasked with taking care of the rules and regulations in the game.
Sourav Ganguly-led BCCI gets another relief
In another development, the BCCI has reasons to celebrate after receiving a good piece of news from the ICC. As per reports in the Times of India, the apex cricket board has agreed that it will take BCCI's tax responsibilities on its shoulders. It's unlikely that the Indian board will get 10 per cent tax exemptions from the central government.
The ICC will pay the taxes to the Indian government for the three ICC events to be hosted by India in the next few years. India are set to host the 2026 T20 World Cup (co-hosts Sri Lanka), the 2029 Champions Trophy and the 2031 50-over World Cup (co-hosts Bangladesh).
"Every other cricket board gets tax exemptions from their government. But BCCI can't expect the central government to bend its laws for us. Hence, all the members felt that the ICC should bear the damages. Anyway, BCCI generates the heaviest revenues by hosting events in India. The BCCI will not have to suffer any cuts from the ICC's revenue pool," a top BCCI official said.
The BCCI is set to save at least INR 1500 crores from their three ICC events. It's also been reported that the Indian board is set to incur a loss of around INR 750 crore. The BCCI didn't have to pay 10 percent taxes to their government for the T20 World Cup 2021 since the tournament took place in the UAE.
Follow us on Telegram