Review: South Africa beat West Indies by an innings and 220 runs
Updated - Dec 20, 2014 1:21 pm
25 Views
1st Test Review: You call him ' Best in the World' for a reason, isn't it ?? Yes, Dale Steyn you beauty !! No wickets in the first innings but came all guns blazing in the second innings to scalp six and guide the Proteas to a well-deserved win over a depleted West Indies side. South Africa beat West Indies by an innings and 220 runs as they continue their winning habit.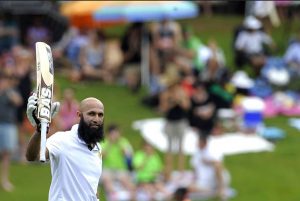 Follow us on Telegram
West Indies began the match on a decent note, at one stage South Africa was 57/3 in the first innings but then Proteas have not just a Steyn but they have enough arsenal in their batting as well. When it was 57/3 then came, arguably two of the best batsmen in world cricket today – Ab Devilliers and Hashim Amla. Rescue acts are not alien to these two batsmen, Hashim Amla scored a double hundred and Devilliers scored a scintillating hundred. They added 408 runs for the 4th wicket and then Van Zyl pondered more nails in their coffin when he hit a maiden test hundred. South Africa declared the innings at 552/5.
West Indies had not much to look forward, with a weak attack and an injury hit line-up. With a big score on the board, South Africa were already on the charge. Atleast a couple of their batsmen had to notch up big hundreds to reach somewhere to close to the total, but instead they fell like a pack of cards. Steyn couldn't do much in the first innings, as he went wicketless. The main wreckers in chief were Philander and Morkel. They bowled in tandem and rocked the Caribbean batting order. The importance of hunting in pairs is higlighted by every team that has been successful over the long run. West Indies batsmen only managed some 30s and odd 20s which was not enough. They got castled out for 201, thanks to Philander and Morkel.
West Indies had to enforce follow on. The second innings started with minimal belief of saving this test match. But, Steyn was just setting himself for an opportunity to have a go against the Windies batsmen and how ! Steyn likes to do things in his own way. He singlehandedly rocked the depleted West Indies batting order taking 6 wickets for just 34 runs off in just 7 overs. Chanderpaul vs Steyn duel was seen as a probable encounter before the start of the test match. This duel did take off, Chanderpaul started by hitting a boundary. But Steyn was victorious at last, when he banged in short and Devilliers completed an easy catch. West Indies was bundled out for 131 this time with Proteas completing a rout. They were supreme all round and winning by huge margins has become a habit by now for this cricketing superpower.
West Indies don't have much too look forward this series to be honest. Injuries and internal troubles between the players association and the board is just haunting them. West Indies looks better off playing T20 cricket these days, they simply doesn't seem interested to play the longest format of the Gentleman's game. Why not strip them of their test status ?? ICC urgently needs to review their status as the test team. Matches like these takes cricket out of the fans. They pay their part of the earnings to not watch one-sided dominations like these, but rather interesting heart beating test matches like the one undergoing down under.
Result : South Africa beat West Indies by an innings and 220 runs.
Man of the Match : Hashim Amla 
Scores :   South Africa 1st innings 552/5 (S van Zyl 101*, Q de Kock 18*) beat West Indies  201 (Smith 35, Philander 4-29) and 131 (Steyn 6-34) by an innings and 220 runs
Follow us on Google News