Richard Halsall hopes England series will go ahead as scheduled
Updated - Aug 8, 2016 7:22 am
77 Views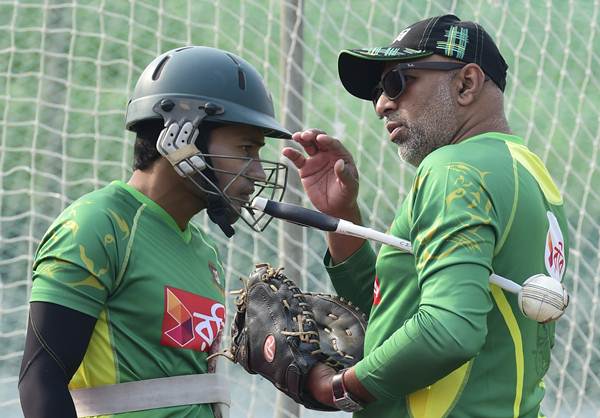 Follow us on Google News
Bangladesh fielding coach Richard Halsall expressed his belief that the England tour of Bangladesh will go ahead as scheduled. He was the first foreign coach to return to the country after the attacks on July 1 and he does not feel any sort of threat to his life. The Bangladesh head coach Chandika Hathurusingha will arrive in the country on Sunday.
"I am hopeful that the tour will take place," Halsall said. "England is, I think, committed to playing cricket all over the world. Their Under-19s were here for the World Cup, but, maybe, the security situation in Bangladesh is better now because awareness of the situation is heightened. I think people are bit more honest about the threat level and there's no denial that there's a threat. But that exists here and everywhere," said Halsall, according to espncricinfo.
"Being honest about there being a threat is the first step to dealing with it. You have got to get on with it. It is my job to coach, and for England to assess whether it is safe here for their players. I think it is safe to be here. But it is up to them to decide whether it is safe for the team to come. Obviously, it is a different situation for a team. But I really hope that they do come. We need to play some international cricket," he added.
Speaking about the series, he said that the Bangladesh team will be fresher for the series than England since they have had a long break from international cricket. England is currently playing a Test series against Pakistan on the back of a Test series against Sri Lanka.
"We have two months to prepare for the series, so you can do everything you want to do," he said. "You can set exact workloads for your bowlers, you can practice all the bowlers you're going to face, you can be fresh and hungry. Or, if you want to pitch it in a negative way, we won't be battle-hardened."
He feels that the England's fatigue will be an advantage for Bangladesh. "But the English are going to be shattered because they just played seven Tests in three months. Their ODIs are going to be over in September. So are they going to be able to bring their best players? They have five Tests against India after they play us. You can pitch it anyway you want to, but our players are going to be ready for the first ODI. We have to see it as an advantage," he concluded.
Follow us on Telegram