Ricky Ponting goes after Courtney Walsh's moon-ball in BushFire Bash; Twitter reacts
The match was played in good spirits even as everyone had a laugh after the incident.
Updated - Feb 9, 2020 2:35 pm
6.7K Views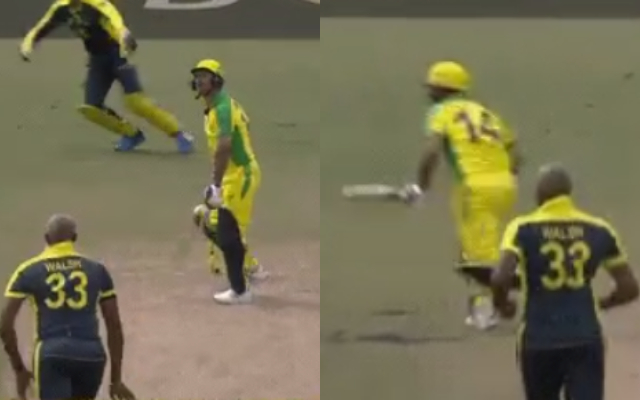 Follow us on Google News
The BushFire 'Big Appeal' turned out to be a magnanimous affair. The former cricketers Ricky Ponting, Adam Gilchrist, Wasim Akram, Brian Lara, Brett Lee, Courtney Walsh, Matthew Hayden, Justin Langer and a whole hosts of legends came together at the Junction Oval in Melbourne for a Bushfire charity fixture. It was aimed at raising funds for the destruction caused by the fires that had blazed the Australian forests in the past 3 months.
The Bushfire 'Big Appeal' threw up a plethora of unforgettable moments but none can come close to the moment when former Australian captain Ricky Ponting decided to have a piece of Courtney Walsh's "moon ball". Walsh's rustiness was quite apparent when the ball flew off his hands and went past the batsman.
Punter, however, decided to make the most of the moon ball and he proceeded to run all the way to short third-man before duly depositing it into the stands. But it was deemed a dead ball by the umpire even as Ponting had some fun taking on the West Indies legend.
Ricky Ponting wanted a piece of Courtney Walsh's moon-ball! #BigAppeal pic.twitter.com/Wze1ZvK1nP

— cricket.com.au (@cricketcomau) February 9, 2020
Ponting XI pipped Gilly's XI by one run
Coming back to the game, Ponting XI batted first, and once again fans got to see the iconic pair of Matthew Hayden and the current Australian coach Justin Langer stroll out to the middle. However, the opening pair did not stay long as Courtney Walsh [1-20] cleaned up the latter for a 4-ball 6. Matthew Hayden stroked a four and a six before he was dismissed by Yuvraj Singh for 16.
Ricky Ponting smashed a whirlwind 14-ball 26 but it was Brian Charles Lara's sumptuous 11-ball 30- which included his trademark cover-drive with that nonchalant bat lift- that was the highlight of Ponting XI innings. They eventually finished with 5-104 in 10 overs.
Gilchrist [17] and Shane Watson [30 off 9 balls] got their side to a brilliant start by shellacking 49 runs in the first three overs but a middle-order wobble ensured that they fell 1 run short of the target despite Andrew Symonds whirlwind 13-ball 29. The match was played in good spirits though even as the fans got to see Sachin Tendulkar batting again albiet for a solitary over.
Ellyse Perry delivered three balls at him while Annabel Sutherland who recently made her international debut bowled three balls as the fans enjoyed it to the hilt.
Here's how Twitter reacted:
😂😂😂

— Cherrykie (@CherrykieMore) February 9, 2020
Ohh punter 😂😂❤

— Krishna (@BadboyEmpire6) February 9, 2020
Walsh vs Ponting in the mid 90s vs in 2020 pic.twitter.com/VcyUjMHKdT

— Sam Bradbrook (@Sambradbrook) February 9, 2020
Ponting facing Walsh with Lara to follow! #bushfirebash

— Gautam Govitrikar DMD (@Gautaamm) February 9, 2020
Ricky Ponting has charged and swept Courtney Walsh this over. Imagine how this would have gone down 20 years ago #BushfireCricketBash

— Just An Average Grade Cricketer (@avegradecricket) February 9, 2020
Great sledging going on from Adam Gilchrist 😂 he's firing Walsh by saying how dare Ponting charge you?! Clean him up. And when he was asked what total would be good he said it looks 60, but if Hayden stays then 40. 😂😂

— Mufaddal Vohra (@mufaddal_vohra) February 9, 2020
What a fun chat in middle! Ricky Ponting charges down and Walsh calls his captain saying 'No one charged down in my entire life'. 😄#BigAppeal #bushfirebash #BushfireCricketBash #thebigappeal

— Sportzride Cricket (@SportzrideCric) February 9, 2020
Follow us on Telegram