Rishi Kapoor takes Jonty Rhodes' example to explain parent's rights to name their children
Updated - Jan 4, 2017 10:53 am
39 Views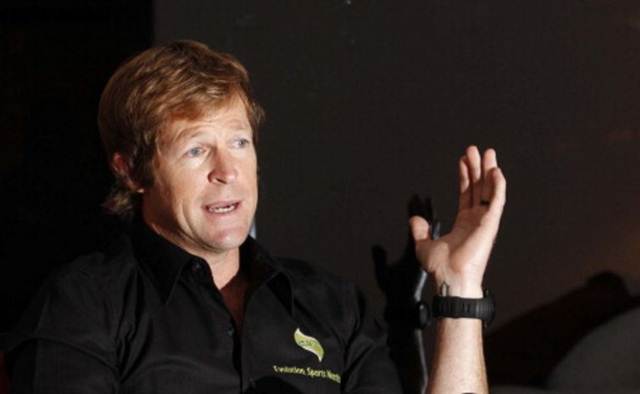 Bollywood veteran Rishi Kapoor recently tried drawing comparisons between former South African cricketer Jonty Rhodes and Saif Ali Khan while to speak about his stance in the 'Taimur' controversy which erupted a few weeks back and divided the social media. Saif and Kareena Kapoor Khan recently became parents to a baby boy.
While the news created headlines and everyone including their fans were quite happy, things turned bit awkward after Saif Ali Khan named their baby Taimur Ali Khan Pataudi. It created a huge uproar on the social media. Twitter certainly wasn't happy and slammed the couple as Taimur happens to a ruthless Mongol ruler who was known for mass killing.
Now, the controversy has mellowed to some extent. However, people still are buzzing around with their opinion. Rishi Kapoor, a very open personality, has come out openly and slammed all trolls and asked them to mind their own business.
"Why are people so bothered what the parents want to name their child please? Mind your business, it's got nothing to do with you. Parents wish! Alexander and Sikandar were no saints. They are common names in the world. Apna kaam karo na tum. Tumko kya takleef hai?" he had written. Now, he's gone one step ahead and compared the situation to Jonty Rhodes naming his daughter India.
He also shared a picture of Jonty with his daughter where he explained why he named his daughter India. He said, "I learned human values there, I learned yoga there, i learned different religion's diversity there… so we named our daughter India."
Seeing this, Rishi tweeted back saying, "You caught it right! Thank you! Johnty Rhodes, for that. Only parents have the right to name their kids whatever."
You caught it right! Thank you Johnty Rodes for that. Only parents have the right to name their kids whatever pic.twitter.com/1cD3mxcMye

— Rishi Kapoor (@chintskap) December 29, 2016
His justification has obviously caught the attention of the people whom he tried to shut up. They did not agree with his opinion and had a field day again giving Rishi a stick for his comments.
@chintskap yes 100% agree.. & then the name reflects parents belief.. just like belief expressed by Jonny..

— vivek joshi (@iVivekJoshi) December 29, 2016
@chintskap sir r u comparing India wd taimur? No i dont hv problem wd name bt If Kiran rao can name her child Azad 'Rao' khan Y cant Kareena

— garima (@gsgarima36) December 29, 2016
@chintskap Absolutely parents prerogative. But do read why Jonty Rhodes names his child India in the image.Do u believe in sound vibrations

— Dr Shobha (@DrShobha) December 29, 2016
@chintskap sir r u comparing India wd taimur? No i dont hv problem wd name bt If Kiran rao can name her child Azad 'Rao' khan Y cant Kareena

— garima (@gsgarima36) December 29, 2016
So what did u @chintskap and your family learnt from Taimur? Rape, killing, looting, torturing ?

— Secular Fraud (@SecularFraud) December 29, 2016