Ritika Sajdeh posts hilarious reply after Yuzvendra Chahal tried to troll her
The funny banter between Chahal and Ritika continues.
Updated - Sep 22, 2019 11:05 am
37K Views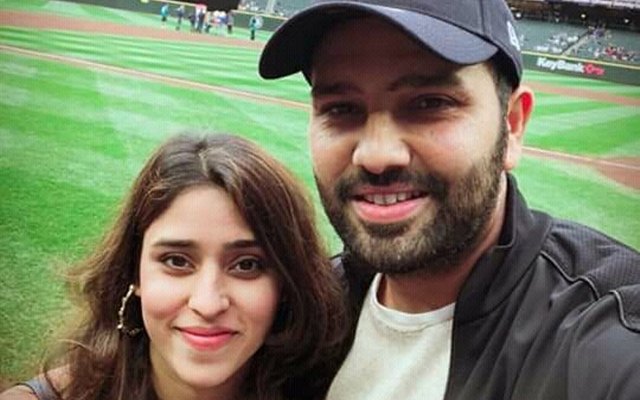 India's star leg-spinner Yuzvendra Chahal seems to be a slow learner. While the Haryana star has been making life difficult for batsmen on the field, he has found himself on the receiving end off the field whenever he has tried to mess with Ritika Sajdeh, wife of India opener Rohit Sharma. Time and again, Ritika has shown Chahal who is the boss on social media but the cricketer seems to have learned little.
But one can say that there are very few who would want Yuzvendra Chahal to learn any lesson and stop messing around with Ritika. Every time, the two have locked horns against each other on social media, the results have been absolutely hilarious. The latest round of duel between the two took place on Saturday and not surprisingly, the leg-spinner was the initiator.
It started when Ritika took to Instagram to post a cute photo of her family. Standing alongside her husband Rohit and daughter Samaira, Ritika took a selfie before posting it on social media with the caption: "Reunited" followed by a heart emoji.
This is when Chahal sensed an opportunity and tried to have some fun at the expense of Ritika Sajdeh. He cheekily asked Ritika why she cropped him from the family photo, writing: "Why u cropped me Bhabhi." As usual, Ritika came up with a brilliant reply that left Chahal speechless. Giving a fitting reply to the leggie, Ritika wrote: "Your coolness was taking over the picture."

Fans get involved
Meanwhile, as soon as Ritika posted her reply to Yuzvendra Chahal's comment, the fans also decided to express their opinions. Most of the fans asked Chahal to stop being a third wheel. The fans are well aware of the past banters between the two and thus asked Chahal to not interfere in the Sharma family every now and then.
"Because you were being kabab mein haddi," wrote one user while another wrote: "Stop being the third wheel Yuzi. Once Rohit had posted a photo of himself while on a vacation. Chahal had then wrote: "Miss you Rohitaaaa sharaaammmaaa," before Ritika came up with a hilarious reply and said: @yuzi_chahal23 he's mine now."
Watch – 10 Expensive cars owned by Indian cricketers