Riyan Parag names two bowlers who intimidate him the most
He also talked about the comparisons with AB de Villiers.
Updated - May 21, 2019 4:41 pm
1.2K Views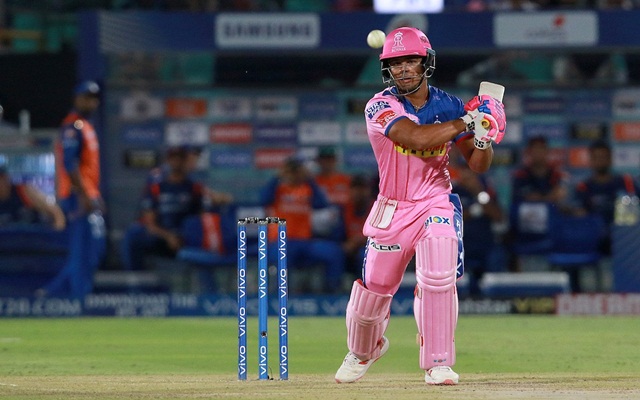 After Abu Nechim, Riyan Parag became only the second cricketer in the history of Assamese cricket to make it to the Indian Premier League (IPL). The teenage sensation from the North-east side played some terrific knocks under pressure for the Rajasthan Royals in IPL 2019 and hogged a lot of limelight since then.
Riyan was a part of the U19 Indian side that lifted the World Cup in 2018 under Prithvi Shaw's captaincy. The youngster was very upset to not get picked last year, but an impressive domestic season helped him find a way into the Rajasthan ranks. In an exclusive chat with CrictTracker, the 17-year-old revealed some of the most challenging moments of his first ever IPL stint.
When asked about the two bowlers who intimidated him the most, he also spoke at length on how he prepares for a game. "I faced Oshane Thomas and Jofra Archer twice and I never faced them again. And I'm pretty sure I'll never face them again. It is really tough and I hate batting in the nets. The closed environment makes me feel I'm locked. Even before matches, I don't really bat in the nets, I just try to do range hitting, hitting sixes for long periods of time.
Even before the game against Mumbai where I scored 47-odd, I spent 90-120 minutes hitting sixes with one guy throwing balls at me. That's what charges me before a match and ever since that match, I've been following the same practice," Parag said.
Playing at Eden was the most challenging moment
Riyan Parag talked about the jitters he faced before his debut in the tournament and also the most challenging moment in the season. He scored a brilliant 47 before getting dismissed obnoxiously. He said he loves such situations where the team is heavily dependent on you to score runs and that pressure brings his best game into the picture.
"I was trying to stay cool but inside I know what's happening. It wasn't under pressure before my first match, I was literally scared. But the most challenging moment was the match against KKR. I have a bad history in Eden, played three matches and scored 9,9 and 9. I went in to bat at a critical position with the required rate was above 11. I don't know how I pulled it off.
I remember it, (When asked about the hit-wicket dismissal) it just came out. I wasn't frustrated, it is just a part of the game. I got cramped up. That clearly was the favourite among all the other knocks this season. I like those situations where the team is dependent on you. A team as big as Rajasthan Royals depending on a nobody like me, I like that pressure. That's where my A game comes into the picture," the youngster added.
On comparisons with ABD
Australian commentator Dean Jones compared Riyan Parag to the legendary AB de Villiers after watching the youngster perform. Talking about those comparisons, he said it is a big compliment and although he enjoyed it personally, he said he is nowhere close to ABD's skillset.
"That's a big compliment, I'm nowhere near ABD. Just a few shots worked for me. I heard that already, I enjoyed it personally, but I'm nowhere near to what he is capable of. I'm trying to learn more and do new things, changing stances again and again. (When asked if these comparisons bother him) – I watch everything, but I don't give things much of a thought. I'm really good at keeping such things out of my mind," Parag mentioned.
[interaction id="5cdfe868df3c8d130786d3bd"]