Robin Uthappa recalls Shoaib Akhtar's cheeky warning for stepping out of the crease
Uthappa recalled a story from late 2007 when the Pakistan cricket team had toured India.
Updated - Jun 4, 2021 6:09 pm
321 Views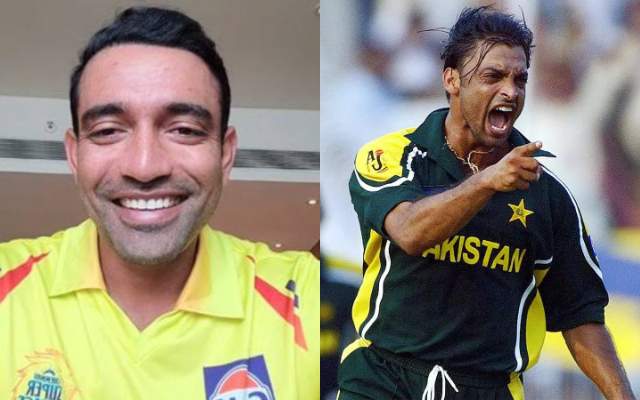 Follow us on Google News
Any batsman who has played with or against Shoaib Akhtar has always had a story to tell about the fast bowler. He is not only known for his sheer pace and ability to scare the batsmen, but also his wittiness. Indian cricketer Robin Uthappa recently shared a story about the former Pakistan pacer during an interaction. 
Uthappa recalled a story from late 2007 when the Pakistan cricket team had toured India. This was, incidentally, the last time the two countries played a Test match. Uthappa revealed that the incident started during an ODI match in Guwahati. India was chasing a total and the Kerala batsman found himself at the crease next to Irfan Pathan.
In order to counter the pace of Akhtar, Uthappa decided to charge down the ground and try to do something else. The move was simply made to upset the rhythm of the Rawalpindi Express. One of the balls during that spell was delivered at 154 kmph, something which the batsman noted during his conversation. Somehow, the right-handed batsman managed to get an edge and the ball went for a four. In doing so, Uthappa did walk out of the crease, in his own well-known style. 
Shoaib Akhtar smartly warned Robin Uthappa
The batsman recalls what transpired after this incident. "We went to Gwalior for a match after that. And we all were having dinner together. We hung out in someone's room. Shoaib bhai was there. He came to me and said, 'Yaar well played!" And then he said, 'Ek baat yaaro, aj tune mujhe chalke maara hai, yeh chiz phirse karega nah, uske baad kya hoga mujhe bhi nahi pata hai, shayad ek beamer ah jaye tere ser pe', Uthappa recalled in a Youtube conversation with stand-up comedian Sourabh Pant. 
Akhtar was simply giving the batsman a warning saying that if Uthappa ever walks on him, he doesn't know how he is going to react . He warned him by saying that he might receive a full banger or a beamer on his head. Robin laughed and said, "I never walked out to him after that. Stayed always on the crease."
Follow us on Telegram