Rohit Sharma becomes a meme material on Twitter as teammates lift him after taking a catch
Rohit falls down after taking the catch, teammates help him in lifting him.
Updated - Oct 14, 2019 1:34 pm
138K Views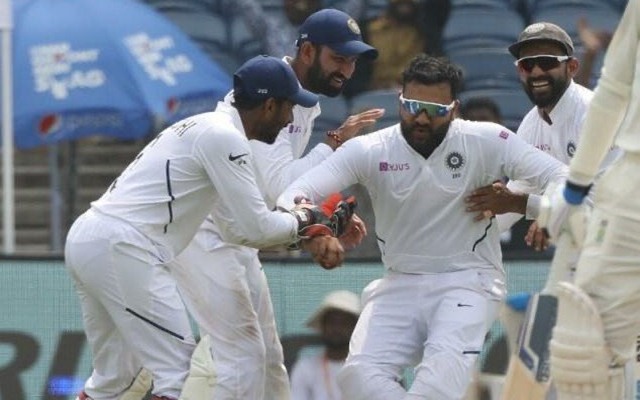 It was Rohit Sharma's show in the first Test. But, the second Test between India and South Africa saw the encore of what have been seeing in the past 7-8 years. Total dominance from the hosts. And, what would come as a lot of satisfaction to Kohli and his team that the match and the series were won on good Test match pitches; one which Temba Bavuma in the press conference as "the closest to what they get in most parts of South Africa."
With the ball getting substantial sideways movement, India knew they needed to get past the opening spell of Kagiso Rabada and Vernon Philander, and though they lost the back-to-back centurion of the 1st Test in Vizag for 14, Mayank Agarwal and Cheteshwar Pujara ensured they laid an ideal foundation for the shenanigans of the likes of Virat Kohli [254*] and Ravindra Jadeja [91] to eventually take over.
Both Kohli and Jadeja proceeded to ground the South African bowlers under a mountain of runs before eventually declaring the innings at 5-601. The gulf between the South African batting and their spinners and their Indian counterparts have been apparently visible in the past as well but its the stark difference in the pace bowling department that has left everyone including the former Protea cricketer flummoxed.
Rohit Sharma takes a top catch in slips, falls down in the process
And, it was on full show again. Here were the Indian bowlers who were at the South African bowlers with relentless precision all the time. Umesh Yadav started the rut by trapping Markram in front with Mohammed Shami and Ishant Sharma duly reciprocating.
Mohammed Shami's delivery to Senuran Muthusamy was another example of an Indian fast bowler not being afraid of bouncing out the opposition. But, it was Rohit Sharma's catch and his eventual fall while taking it, that became an instant social media meme. Sharma was in the news in this Test match, not for the runs that he scored but for a certain pitch invader who stormed to the ground on the third day in a bid to kiss his hero and now for his seemingly funny fall while taking Muthusamy's catch.
With the close-in fielders converging to get hold of Rohit, Twitter came up with some hilarious memes of the same.
Here's how Twitter reacted:
When you have four IPL titles, but they give the T20 captaincy to some RCB hipster pic.twitter.com/BGZZEm4ewA

— Hitman Cricket (@HitmanCricket) October 14, 2019
Action. Reaction pic.twitter.com/B2Xg12T6fR

— Neo🔟 (@hate_chemistry) October 14, 2019
Action. Reaction. pic.twitter.com/u8BxN71pWr

— Keh Ke Peheno (@coolfunnytshirt) October 14, 2019
When Rohit acts like Ravi Shastri & drinks 4 Bottle Vodka- pic.twitter.com/I5W6Bm2LtW

— Rosy (@rose_k01) October 14, 2019
Rohit Sharma crestfallen after hearing that a tree has been cut in #Aarey ! Great human! Legend! pic.twitter.com/JDSGyvObnk

— Keh Ke Peheno (@coolfunnytshirt) October 14, 2019
Rohit Sharma – 1
SRK – 0
cc – @coolfunnytshirt pic.twitter.com/pH6sf7dtld

— GauravMishra (@mishrageee) October 14, 2019
"He carried the burden of the whole nation in the World Cup, so it's time we returned the favor" https://t.co/PU9NEewEeR

— Vyz (@ilayarendi) October 13, 2019
Rohit
When Duncun Fletcher said this to him
"You could have scored 300 , you played a bit slow in the start "

When he scored 264 vs SL https://t.co/rOdXOzUQzr

— © (@ImchaitRohitian) October 13, 2019
Scenes from NZ https://t.co/KhOBKM4yZd

— Nitesh (@k_nitzz23) October 13, 2019
Pillar of Indian batting loses balance https://t.co/V18MxPVOgf

— Sam 🇵🇰 (@iamsam_PTI) October 13, 2019
That one friend who always goes overboard while drinking. https://t.co/b0GMaGXQbK

— Bhavesh (@iBhaveshhh) October 13, 2019
When a Hot Girl gives constant eye contact!!!😊😌 https://t.co/y8a3QoCujr

— Believer! Living on a PALE BLUE DOT🌏 (@Human863) October 13, 2019
Me after attending 3 continues maths classes https://t.co/dkHrvFVXid

— Kedar Reddy (@reddy_kedar) October 13, 2019
When they told Rohit that he will have to open the innings in NZ too https://t.co/DKE8n2mlKX

— Amy (@Middlclassmogli) October 13, 2019
#INDvSA
Rahane:"Bhai ye pitches toh kuch nahi.. England ke pitches Mai toh…."

Rohit:
Rahane: https://t.co/cesGmSUL0A

— Uncle Duckworth (@NewGenFan) October 13, 2019
When Kohli says "Agle match ke liye green top banvaenge" https://t.co/n01l4oWlkd

— Ram (@Ram_2605) October 13, 2019
https://t.co/egTQX5Ln41 pic.twitter.com/PhjHtYi8L9

— Tabrez (@its_tabrez__) October 13, 2019
When your friends are drunkards and you are drinking for first time. https://t.co/H4HEcYRctD

— aK™ (@NotThatAnil) October 13, 2019