Rohit Sharma Centuries | List of Rohit Sharma Test, ODI, T20I, and IPL Centuries
Having been around for over a decade, Rohit Sharma has become India's mainstay in both ODIs and T20Is, whereas after years of labor, he has proven his merit in the Tests as well.
Updated - May 14, 2021 4:50 pm
1.7K Views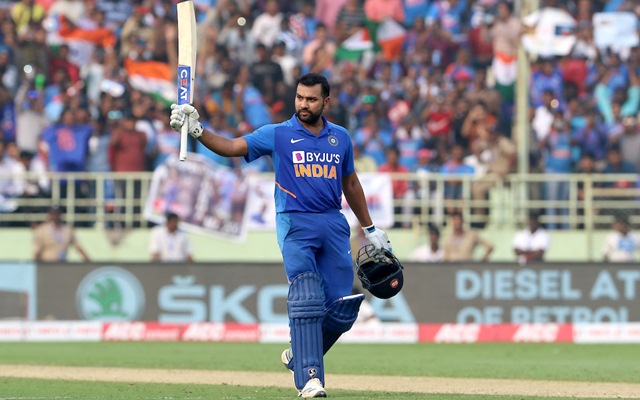 Talent is a characteristic he has in abundance. So much that often his toil is taken for granted and is masked by effortlessness. But who does he have to blame? Of course, himself. Rohit Sharma makes batting look like the simplest task in the world. Renowned for his lazy elegance, free-flowing and carefree batting style, Sharma strode into the limelight when he recorded a fluent triple century in the Ranji circuit.
On his List-A debut in 2006 against Central Zone, Rohit bailed out a precariously positioned West Zone, who were once 97/6 in a chase of 181. He got a half-century in his maiden First-Class match against New Zealand A in the same year and scored a 37-ball 40 against Baroda in 2007 on his Twenty20 debut. Some eye-catching performances, an incredible ability to play nearly every shot in the book without much fuss coupled with good judgment, and the knack of accelerating at will made him a shining prospect for an Indian team that had issues in its middle-order.
Early days
He made his ODI debut against Ireland in June 2007 but did not get a chance to bat. The first time he did, against South Africa, three days after his debut, he managed only 8 runs from 9 deliveries before being knocked over by Jacques Kallis. Rohit's moment arrived when an injury to Yuvraj Singh brought upon a sudden call-up for him in India's T20I team for the 2007 T20 World Cup. He displayed his potential against South Africa with a well-paced, unbeaten 52 that took India to a score of substance.
On the back of his World Cup 2007 exploits, Rohit was trusted by the selectors and he retained his ODI spot during the Commonwealth Bank Tri-series in 2008, where his blistering cameos down the order further highlighted his impressive skillset. However, a rut of inconsistent performances where he squandered starts and failed to convert them into anything substantial kept him away from making a permanent spot inside the eleven.
It took him no less than 42 games before he notched up his maiden century (against Zimbabwe), and only a couple of days later, he followed with one against Sri Lanka that left many impressed.
Many misses before success
While it seemed that Rohit would be able to make his way into the 2011 World Cup squad, another dip in form in three ODI series on the trot meant that he failed to break in. A laborious student of the game that he was, Rohit chose not to budge as he continued his grind and the swashbuckling batsman had the Indian Premier League to thank for regaining his lost mojo and being able to demonstrate to the world his spectacular prowess.
In a life-changing turn of events, MS Dhoni, the then-skipper of the Indian team, opted for Rohit Sharma in the slot of an opener when India desperately needed one with their regulars fading from the international arena. Rohit proved his mettle with a fearless attitude as he formed one of the better opening duos alongside Shikhar Dhawan in limited-overs cricket.
He shaped up well, playing the new-ball bowlers with his easing grace, and his belligerent instincts augured well for the team, who had just got an ideal candidate to secure their white-ball game. What he could do when on a song was exemplified against Australia in Bangalore, when he rammed into an elite list of ODI double centurions, slamming a blitzkrieg 209, and little did anyone know that there would come more of these.
Having missed out on a chance to make his debut in the whites in 2010, when he was inches away from Test cricket but was denied by fate due to a last-moment injury, Rohit got his opportunity against West Indies in 2013 in what was Sachin Tendulkar's last international series. At the Eden Gardens, a venue that would witness many more Rohit specials, he made a sensational debut, leading the team to a big total through his 177. He followed that with an unbeaten 111 in an encounter that was immortalized by the last walk of the Little Master, the farewell match of the mighty Tendulkar.
India's go-to in limited-overs
Against a hapless Sri Lanka in 2014, on his favorite Eden Gardens, Rohit did the unthinkable: records galore as he marauded the Lankans to register a record 173-ball 264, which stands as the highest individual score by any batsmen in the format to this day. Even as he juggled in and out of the Test team, Rohit became a beast in the limited-overs format for India. Issues, if at all any, were related to his consistency, but after the 2015 World Cup, he rarely looked lost.
In 2017, Rohit added another double century in his cap as he decimated Sri Lanka once again, this time at Chandigarh. Having established himself as India's go-to in the ODI format, Rohit matched and even surpassed on a few occasions, arguably one of the finest ODI players of the times, his countryman, Virat Kohli. He was at his devastating best during the 2019 World Cup, where he ended up with 648 runs at a Bradmanesque average of 98.33, and a mind-boggling 5 centuries. Having been around for over a decade, Rohit Sharma has become India's mainstay in both ODIs and T20Is, whereas after years of labor, he has proven his merit in the Tests as well.
Leadership
Rohit Sharma's captaincy is often talked about but remains to be highly underrated. He has changed the fortunes of Mumbai Indian's upside down ever since he held the mantle of captaincy in 2013, the same year when he led the Indians to their first-ever IPL title.
He has a certain degree of calmness in his style. Unlike the go-getter Virat Kohli or a fierce Ricky Ponting, Rohit possesses an element of MS Dhoni: relaxed attitude, the uncanny ability of holding nerves in pressure situations. An intense thinker of the game, Rohit is tactically astute and knows how to make use of resources: something that could be seen in the way he exploited the best out of his players in the Mumbai Indians.
He has the knack for backing the players and building a team. But at the same time, Rohit has established himself as a leader who gives freedom to those under him to express without any pressure. It was the 2015 season of IPL that MI won their second title and when two of India's current stars – Hardik Pandya and Jasprit Bumrah – developed immensely under Rohit's captaincy.
In the following years, the likes of Rahul Chahar, Ishan Kishan, and Suryakumar Yadav have also blossomed under him and have got a look-in in the Indian team. Leading MI to three more triumphs in 2017, 2019, and 2020, Rohit Sharma stands as the only IPL captain with five titles.
On the international level as well, Rohit has led India to victories in the Nidahas trophy where a glaring example of his proficiency was his belief in Dinesh Karthik's ability to finish games. In the same year, he also led India in a victorious campaign in Asia Cup despite the absence of Virat Kohli and Hardik Pandya. His greatness certainly lies in his batting but so does in his captaincy.
Here is a list of all of Rohit Sharma's centuries in cricket
Rohit Sharma Test Centuries
| | | | | | |
| --- | --- | --- | --- | --- | --- |
| S. No. | Date | Against | Score | Venue | Result |
| 1 | 07-Nov-13 | West Indies | 177 | Kolkata | Won |
| 2 | 15-Nov-13 | West Indies | 111* | Mumbai | Won |
| 3 | 26-Nov-17 | Sri Lanka | 102* | Nagpur | Won |
| 4 | 02-Oct-19 | South Africa | 176 | Visakhapatnam | Won |
| 5 | 05-Oct-19 | South Africa | 127 | Visakhapatnam | Won |
| 6 | 19-Oct-19 | South Africa | 212 | Ranchi | Won |
Rohit Sharma ODI Centuries
| | | | | | |
| --- | --- | --- | --- | --- | --- |
| S. No. | Date | Against | Score | Venue | Result |
| 1 | 28-May-10 | Zimbabwe | 114 | Bulawayo | Lost |
| 2 | 30-May-10 | Sri Lanka | 101* | Bulawayo | Won |
| 3 | 16-Oct-13 | Australia | 141* | Jaipur | Won |
| 4 | 02-Nov-13 | Australia | 209 | Bengaluru | Won |
| 5 | 13-Nov-14 | Sri Lanka | 264 | Kolkata | Won |
| 6 | 18-Jan-15 | Australia | 138 | Melbourne | Lost |
| 7 | 19-Mar-15 | Bangladesh | 137 | Melbourne | Won |
| 8 | 11-Oct-15 | South Africa | 150 | Kanpur | Lost |
| 9 | 12-Jan-16 | Australia | 171* | Perth | Lost |
| 10 | 15-Jan-16 | Australia | 124 | Brisbane | Lost |
| 11 | 15-Jun-17 | Bangladesh | 123* | Birmingham | Won |
| 12 | 27-Aug-17 | Sri Lanka | 124* | Kandy | Won |
| 13 | 31-Aug-17 | Sri Lanka | 104 | Colombo | Won |
| 14 | 01-Oct-17 | Australia | 125 | Nagpur | Won |
| 15 | 29-Oct-17 | New Zealand | 147 | Kanpur | Won |
| 16 | 13-Dec-17 | Sri Lanka | 208* | Mohali | Won |
| 17 | 13-Feb-18 | South Africa | 115 | Port Elizabeth | Won |
| 18 | 12-Jul-18 | England | 137* | Nottingham | Won |
| 19 | 23-Sep-18 | Pakistan | 111* | Dubai | Won |
| 20 | 21-Oct-18 | West Indies | 152* | Guwahati | Won |
| 21 | 29-Oct-18 | West Indies | 162 | Mumbai | Won |
| 22 | 12-Jan-19 | Australia | 133 | Sydney | Lost |
| 23 | 05-Jun-19 | South Africa | 122* | Southampton | Won |
| 24 | 16-Jun-19 | Pakistan | 140 | Manchester | Won |
| 25 | 30-Jun-19 | England | 102 | Birmingham | Lost |
| 26 | 02-Jul-19 | Bangladesh | 104 | Birmingham | Won |
| 27 | 06-Jul-19 | Sri Lanka | 103 | Leeds | Won |
Rohit Sharma T20I Centuries
| | | | | | |
| --- | --- | --- | --- | --- | --- |
| S. No. | Date | Against | Score | Venue | Result |
| 1 | 02-Oct-15 | South Africa | 106 | Dharamsala | Lost |
| 2 | 22-Dec-17 | Sri Lanka | 118 | Indore | Won |
| 3 | 08-Jul-18 | England | 100* | Bristol | Won |
| 4 | 06-Nov-18 | West Indies | 111* | Lucknow | Won |
Rohit Sharma IPL Centuries
| | | | | | | |
| --- | --- | --- | --- | --- | --- | --- |
| S. No. | Date | Team Played | Against | Score | Venue | Result |
| 1 | 12-May-12 | MI | KKR | 109* | Kolkata | Won |