Rohit Sharma reminded Yuvraj Singh of Inzamam-ul-Haq when he first came into the Indian team
Rohit Sharma made his international debut in the inaugural ICC T20 World Cup in 2007.
Updated - Apr 5, 2020 10:41 am
2.3K Views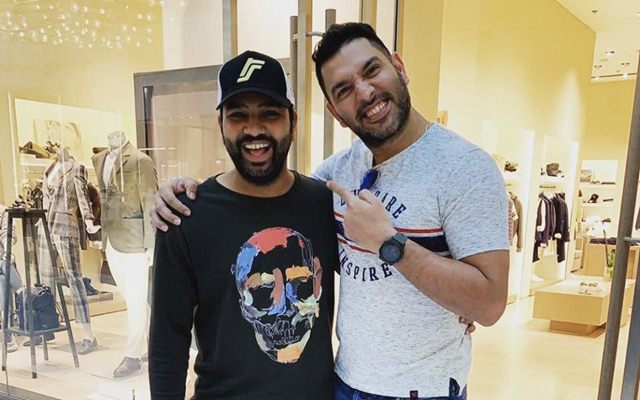 Rohit Sharma first played for India in the T20I format during the inaugural ICC T20 World Cup in 2007. Though he impressed many with his strokeplay in the tournament, it took him almost six years to seal his place permanently in the limited-overs format. However, the reason for him to play until 2013 despite not performing to the expectations was the talent he possessed and the backing he got from the then captain MS Dhoni.
Another player who had spotted the immense talent in Rohit was Yuvraj Singh who was at the peak of his career in 2007. Recalling the times when India's current limited-overs vice-captain joined the team for the first time, Yuvraj has said that Rohit Sharma had reminded him of Inzamam-ul-Haq due to his batting.
The Indian opener even now, mesmerises many with his batting and the experts say that he gets a fraction of a second extra due to the position he gets in before playing a shot. Yuvraj Singh also cited the same reason while comparing him with the legendary Pakistan batsman who is still regarded as one of the best cricketers they've ever produced.
"I think when he came into the Indian team, he looked like somebody who had a lot of time. He reminded me of Inzamam-ul-Haq, because, when he batted, Inzi had a lot of time (to play the bowlers)," Yuvraj Singh was quoted as saying by Hindustan Times.
However, Rohit Sharma has still got a fair way to go to match Inzamam in terms of the career statistics. The latter went on to play 120 Tests and 378 ODIs in his career while amassing 8830 and 11739 runs respectively. Rohit, on the other hand, seems to be matching him in the 50-over format having scored more than 9000 runs in 224 ODIs. But when it comes to the longest form of the game, he is a long way behind.
Rohit Sharma at home amid nationwide lockdown
At the moment, Rohit Sharma is spending some quality time with his family due to the ongoing nationwide lockdown. The outbreak of the Coronavirus has led to all cricket getting either postponed or cancelled. The Indian players were supposed to be the part of the Indian Premier League (IPL) now but even the cash-rich league has been deferred until April 15 and the chances of it happening are looking bleak as of now.